Built tough
Western Star's 4900 series combines traditional styling with sturdy design to deal with rugged work conditions.
Jim Taylor, a bulk hauler leased to Bruce Oakley Trucking of Little Rock, Ark., is driving his sixth
Western Star. He loves the design of his 2009 Western Star 4964 with Stratosphere Sleeper and the brawn it brings to his demanding application.
"This is a great work truck," he says.
The Quincy, Ill.-based operator hauls sand, roofing granules, salt, and some catalytic materials. His bulk tanker has a PTO-driven blower that uses compressed air to speed the offloading of cargo. He often visits quarries or factories and loads through the top of the tanker.
He needs a truck that can go on- and off-road, and his specs deliver: Detroit Diesel DD15 engine, 18-speed Eaton/Fuller transmission and Eaton drive axles. The engine makes 500 hp both in and out of cruise control and generates 1,850 lb.-ft. of torque. The 3.21:1 axle ratio gives an efficient cruise rpm of 1,275 at Taylor's normal highway speed of 65 mph.
Taylor appreciates the cab's comfort, construction and interior storage room. "When you close the door, you hear a solid sound," he says. "No rattle or tinny sound like you get on some trucks."
He also likes the traditional look, saying, "It may not have the very most advanced aerodynamics, but it still gets really good fuel economy if you drive it sensibly." He gets well over 6 mpg under favorable operating conditions.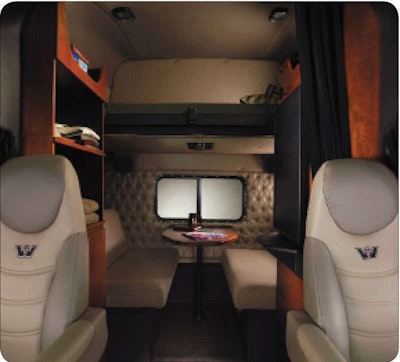 Product Strategy Manager John Tomlinson says, "Customers can select the 4900 SA with a high-visibility hood to provide aerodynamic features and not compromise the big power and ruggedness Western Star is known for."
He says every Western Star is "Galvaneeled," the company's term for the 17-step electrostatic painting that uses electrical forces to draw the paint into all surfaces of the frame and cab. "Once coated, the cab is baked to cure the paint and create a uniform protective finish," Tomlinson says.
"Stratosphere sleepers feature a multi-layer honeycomb wall design that was originally developed for the aircraft industry," he says. "This technology provides maximum strength and durability while simultaneously reducing weight. All Western Star sleepers also feature a flat floor transition from cab to sleeper with 18 inches between the seats." Sleeper sizes range from 34-inch rest cabs to 82-inch live-in units.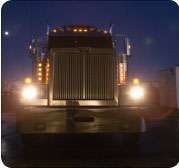 "Every Western Star features marine-grade rocker switches as standard equipment," Tomlinson says. This means they are sealed against dirt, assuring reliability even in a dirty environment. Gauges are multiplexed and can be relocated to suit the operator's needs, Tomlinson says.
"Western Star offers a one-piece steering shaft that locates the slip joint spline in the cab and out of the elements," he says. This reduces corrosion damage that can cause less responsive steering and mechanical problems.
Frames are shot-peened, a physical hardening process. Each is custom-drilled and shaped for the particular items the buyer specifies, says Tomlinson. "All frame fasteners are grade 8 bolts rather than huck fasteners. Air and electrical lines are secured to the frame with a 3-inch steel stand-off and metal band clamp to prevent rubbing, for maximum long-life durability of the electrical and air systems," he adds.
Tomlinson says Western Stars offer an uncluttered front wall connection that eases servicing and customization. All fuse panels are located in the cab with easy dash access.
Western Stars can be customized to match any application well, says Guy LeMieux, Western Star marketing segment manager.
"Western Star has spent years building heavy duty, one-off custom trucks for logging, heavy haul and various vocational markets," he says. "Customers can take advantage of this experience and knowledge to create the perfect solution for their specific needs." n
WESTERN STAR 4900
ENGINES
• Detroit Diesel DD13 and DD15 with various power ratings; a Cummins ISX and a DD16 both rated at 600 hp, 2,050 lb.-ft. of torque
TRANSMISSIONS
• Wide variety of Eaton/Fuller manual, Eaton automated and Allison automatic transmissions
AXLES
• Front: Detroit Diesel's proprietary axle with needle bearings in place of kingpins, plus other brands, 6,000 lb. to 16,000 lb.
• Rear: 34,000 lb., 40,000 lb., and 44,000 lb.
SUSPENSION
• Both Air-Liner air and Tuftrac vocational.