Big power, high efficiency
Detroit's newest and biggest engine, the DD16, maximizes pulling power while maintaining good mpg.
Detroit Diesel has been raising eyebrows since challenging its competitors with the Series 60 in 1987. More recently, Detroit and its parent company, Daimler AG, developed a remarkable engine platform in the DD13, DD15 and DD16. The latter displaces 15.6 liters rather than the 14.8 of the DD15.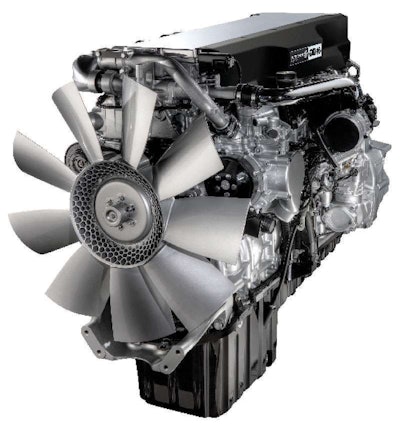 Detroit claims the DD16, whose Nox emissions reduction is in part based on selective catalytic reduction, has an edge in fuel economy. That's partly because of the turbo-compounding used with its exhaust gas recirculation system. Says Senior Engineering Manager Admir Kreso, "By using the nozzle feeding the turbo-compounding system to generate the back pressure necessary for EGR, the engine recovers exhaust energy that is normally thrown away on EGR engines with variable geometry turbos. This significantly improves fuel economy."
The turbo-compounding turbine sits behind the regular turbo. But instead of driving a compressor for the intake air, it drives the crankshaft through hydraulics and a train of gears. In addition to saving fuel, it increases power output.
 "A simple pre-1998 non-wastegated turbo," Kreso adds, creates "best-in-class torque response."
The engine has other unusual features, too. Webbing on the block increases its strength and rigidity without adding much weight; and patterned liners do a superior job of retaining oil in their bores to lubricate the pistons and rings.
"ACRS is the latest in fuel injection technology, " Kreso says, referring to the amplified common rail fuel system. "We have seen the industry shift toward common rail injection systems, but ACRS takes common rail technology a step further."
"Amplified," he says, "means the high pressures needed to achieve the desired combustion events are created inside the injectors, and not throughout the entire system, as in other common rail systems."  The result is "better reliability of all fuel system components," he adds, including filters, lines and the common rail itself, among others.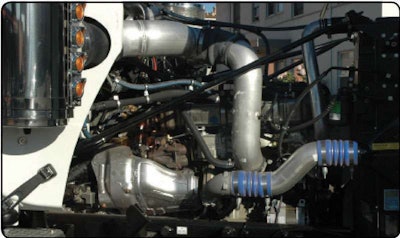 ACRS also enables the DD16 to use "rate shaping," meaning fuel is not pumped into the cylinder at a constant rate, rather one that comes on gradually or tapers off to kill either nitrogen oxide or soot. This practice delivers "the precise amount of fuel with the exact timing necessary to achieve the most efficient and complete combustion event," Kreso says.
Another key feature is the BlueTec emissions technology and its proprietary 1-Box emissions package, designed to minimize backpressure through a dual flow design. "It is a well-known fact that high backpressure hurts performance and fuel economy," Kreso says. The 1-Box design "forces exhaust through two identical diesel oxidation catalysts, diesel particulate filters and selective catalytic reduction catalysts [instead of just one of each], which allows the exhaust to flow more easily."
Dual hollow camshafts enhance fuel economy and are also lighter and offer quicker response time and increased strength compared to solid camshafts, Kreso says. He reports that many of the design elements together extend the standard service interval for oil, as well as oil and fuel filters, to 50,000 miles for long-haul trucks.
Bob Berry, of Berry Brothers Towing and Transport, runs a 15-wrecker operation out of Oakland, Calif. His company recently bought a new 2010 chassis with a 600-hp DD16 with 2.050 lb.-ft. torque, a Fuller 18-speed transmission, and other appropriate running gear, to replace a worn 1999 chassis with Caterpillar power. They installed the Western Star cab and wrecker body from the old chassis as a glider kit. The result was a three-axle wrecker that pleases Berry.
"We recently had to pick up a broken-down garbage truck," Berry says. "We were on a very steep hill with a 60,000-pound load. When I let out the clutch and gently applied the throttle, the truck didn't even blink. It pulled off without any hesitation or bucking. I was even able to upshift easily."
Although wreckers need to be geared for power, with rear axle ratios in the range of 4.80:1, Berry says, "so far, fuel economy is excellent, and we only have about 2,000 miles on the unit." He is also pleased with the low rate of DEF consumption, and has used only about 20 gallons so far. "I anticipate no trouble pulling the loads of over 100,000 lbs. that we frequently need to rescue."
Berry visited the Detroit Diesel factory before buying and was especially impressed by the test program in place for the new engines. It includes technology that allows factory engineers to monitor critical real-time engine parameters by satellite. n
DD16
CONFIGURATION: Inline 6-cylinder
BORE AND STROKE: 5.47 x 6.73
DISPLACEMENT: 952 cubic in./15.6L
COMPRESSION RATIO: 17:1
OIL CAPACITY: 47 quarts
HORSEPOWER RANGE: 475-600
TORQUE RANGE: 1,750-2,050