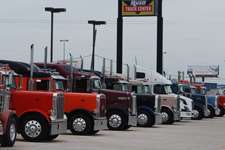 Reported sales of used Class 8 commercial vehicles were up 55 percent in August compared to the prior year on a "same dealer" basis, according to ACT Research Co.
In the latest release of the used truck report, ACT further reported the average price paid for a used Class 8 truck continued to move slightly higher.
"While unit sales are up year-over-year, recent months have seen flat to slightly downward sales volume as dealers have voiced concerns over a shortage of late-model inventory," said Steve Tam, vice president-commercial vehicle sector with ACT.
"As in most cases when supply tightens, prices go up. In August, the average price of a used Class 8 vehicle sold in a retail setting (excludes auctions and wholesale transactions) broke the $40,000 barrier for the first time since February of 2009," Tam added.