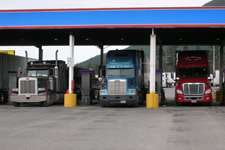 For the third time in four weeks, the average weekly retail on-highway diesel price increased this week, jumping 4.9 cents to $3 a gallon, according to the U.S. Department of Energy.
The national average price is 41.8 cents higher than the same week last year.
All of the regions tracked by DOE recorded large gains, led by a 6.2-cent increase in the Midwest. The East Coast advanced 5.1 cents, including 6.1-cent increase in the Central Atlantic area. The West Coast gained 4.4 cents.
California, which is the most expensive area, rose 4 cents to $3.179 a gallon. The cheapest is the Gulf Coast at $2.92, up 3.7 cents.

For state-by-state diesel prices, updated daily, click here.