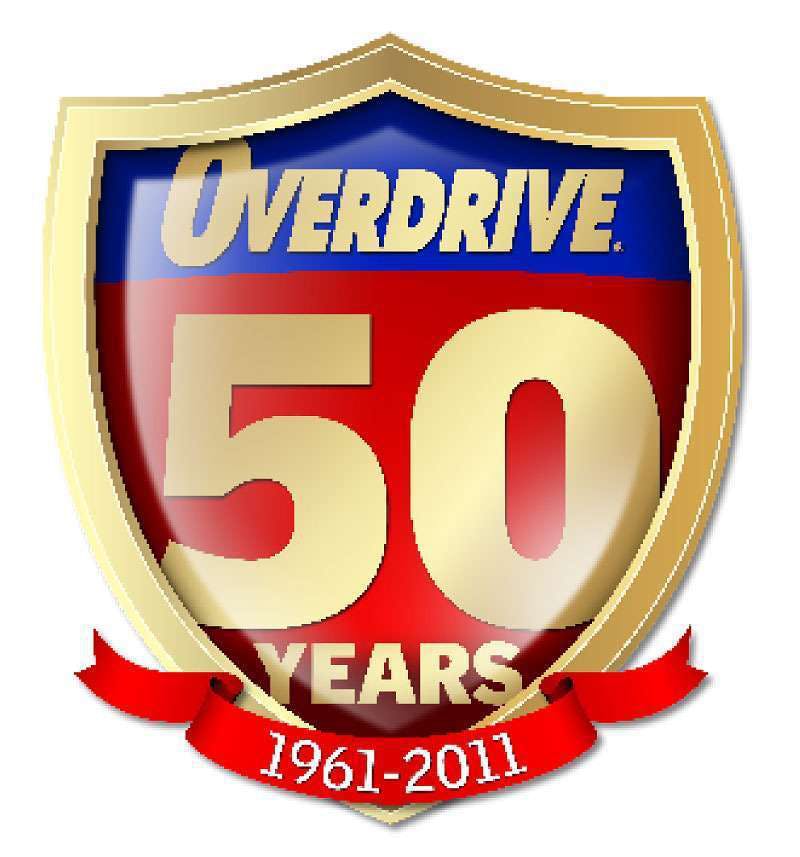 For hard-working owner-operators trying to survive in a highly regulated industry, Overdrive became the Voice of the American Trucker.
With this installment, Overdrive begins a year-long celebration of its 50th anniversary, which will be in September 2011. Further anniversary coverage will be added over the year at Overdrive-Retro.com.
In 1961, a din of political unrest was getting louder. U.S. troops deployed to Vietnam, President John F. Kennedy clashed with Fidel Castro and civil rights activists marched. But to independent truckers, those conflicts paled in comparison to the problems of regulated freight, railroad competition, an incomplete Interstate Highway System, abusive troopers and the threat of unionism represented by the Teamsters.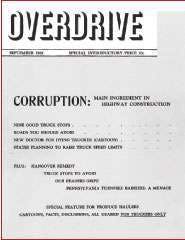 When Overdrive launched in September 1961, drivers liked the appeal that 27-year-old founder Michael Parkhurst made to them as the "muscle, sweat and heart of trucking." The former owner-operator's reports on roads, equipment, truck stops and, most importantly, the politics behind the public and private powers in trucking, soon attracted a large readership.
"It was a good thing Overdrive came on the scene," says 80-year-old Richard Daniels, a reefer hauler and former president of Kandel Transport, based in Akron, Ohio. Daniels' first long haul, in 1946 when he was 16, took him from his home in Hicksville, Ohio, to Parsons, Kan., to pick up Army surplus ammunition.
He, like others, was relieved when the magazine took on issues of goods that the government required to be hauled by rail, referred to as non-exempt freight, versus goods that truckers could haul without government oversight, and other burdensome practices. "We had all kinds of problems getting unloaded," Daniels says of the '50s and '60s. "Sometimes you had to pay someone to unload your truck of produce for you. Overdrive wrote about that."
Government regulation and the railroads' efforts to block trucking freight created obstacles for owner-operators that lasted until 1980, when trucking was deregulated, says Bill Johnson, executive director of the American Truck Historical Society.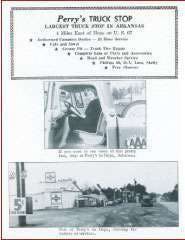 Overdrive, which later adopted the tag Voice of the American Trucker, became a key player in the trucking industry's issues of the '60s and '70s. "There was a lot of change made just because of Overdrive magazine," says owner-operator Moss Batts, 80, of South Fulton, Tenn. "Parkhurst went to Washington trying to get a lot of bills through for us and helped us."
By the mid-'70s, the magazine's muckraking garnered coverage in Time magazine. "In a racket-infested, violent industry, maverick Overdrive (circ. 56,000) speaks with high-tonnage authority," the magazine said of Overdrive's September 1975 issue, which speculated that the Mob had killed Teamster leader Jimmy Hoffa. Reporter Jim Drinkhall covered the Teamsters' activities closely because, as a strongly organized union, the group threatened independent truckers.
Besides covering the national issues, the magazine drew readers by appealing to their everyday concerns. Typical issues contained reader opinions, new products, tractors of the month, cartoons, and often pretty models sprinkled throughout editorial and advertising content. Parkhurst's Independent Truckers Association, one of many advocacy groups he started, impacted readers immediately, says Johnson. "He somewhat promoted a wildcatter image," he says.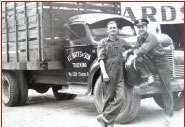 For Canadian plant hauler Jon Los, the magazine was like a lifeline and inspired a trucking career. En route to Disneyland with his parents, the then 13-year-old was enthralled when he discovered trucking magazines, including Overdrive, at a truck stop. "It stood out from the rest right away," Los recalls, noting the slogan beside the cover price, The Price of Truth. "I read it from cover to cover three or four times."
The resident of North Bend, British Columbia, says it "was awesome to see those cool American rigs and read about the trials and tribulations of the independent truckers." He became an owner-operator and noted that one of his trucks was featured as model of the month in the 25th anniversary issue.
Los, who has driven for 28 years and now delivers plants to Walmart and Home Depot, says Overdrive's spirited advocacy gave him hope. "I loved that rag. It was my connection to a world I longed to be a part of."
50 Years of Equipment Innovations
First bolt-on aero device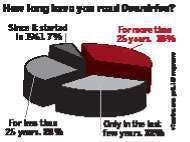 While truck body designers had introduced strategic curves before the mid-'60s, Rudkin-Wiley Corp. took aerodynamics further when it brought out the first bolt-on aero device for trucks in 1965. The Air-Shield retro-fit mounted on the cab roof, guiding air over the top of the trailer, thus greatly reducing drag at highway speeds.
Ads claimed fuel savings of $200 to $1,600 per year (not bad in an era when fuel cost well under $1) and a drag reduction as high as 21 percent on cabovers. This reduced shifting and transmission wear and, in some applications, allowed use of a smaller engine for further fuel savings.

The device ultimately drove a revolution in cab aerodynamics in which Rudkin-Wiley played a part by providing tractor and trailer fairings. Rudkin-Wiley was renamed Airshield and is still in business as Star Composites, though it no longer makes truck aero devices.
During its anniversary celebration, Overdrive will publish monthly one of the top 50 equipment innovations of the last 50 years. Others in the top 50 can be viewed at OverdriveRetro.com. The entire list will be published in the 50th anniversary issue, September 2011. The top 50 were chosen by an expert panel:
• Brant Clark, who worked as co-founder of Owner Operator magazine and in other truck publishing jobs, as well as in truck sales.
• Ed Shea, who worked as service manager in a Nash dealership, executive editor of Commercial Carrier Journal and publisher of Owner Operator magazine.
• Larry Strawhorn, who worked as vice president of engineering of the American Trucking Associations and as a Mack Trucks engineer.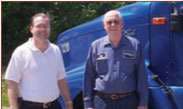 • John Baxter, Overdrive equipment editor, who worked as a transport refrigeration and truck mechanic in the U.S. Army and in other truck and automotive editorial positions.
• Bob Deal, who worked as an application service engineer for Detroit Diesel and in other diesel engine development capacities. n