'Life's pretty hectic'

Brad Conn's professionalism and passion for trucking help him balance owning and operating two businesses.
Owner-operator Brad Conn says he picked up "the itch" riding in trucks that drove cattle to market from his family's farm near Greene, Iowa. He rode along when he could, he says, and somewhere along the way, "I just got hooked."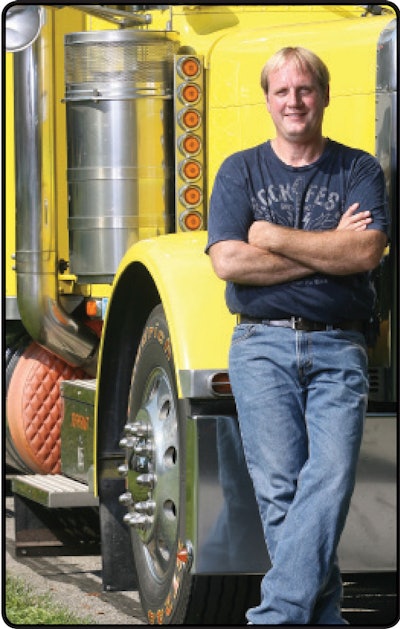 During his 23-year career, he's never really been able to get his fix. "I still have a strong desire to do it," the 44-year-old says. "It's something I still enjoy, and I've been lucky enough to be successful with it."
The Cedar Falls, Iowa, resident has a dedicated run hauling John Deere equipment for Warren Transport, running four trips a day between Iowa towns Waterloo and North Liberty. Passion for his trade, he says, helps him balance his other responsibilities. He and his wife, Emily, own the Bitter Sweet Branch gift shop in Cedar Falls and have a 1-year-old son.
"It keeps us busy. There's no question about it," Conn says. "We don't have a lot of free time."
Conn started as an owner-operator for the freight division of North American Van Lines when he was 21. After his grandfather had a stroke shortly after, though, he had to return to working on the family farm. Six months later, however, his father sold the farm, and Conn returned to driving. He bought a 1974 Freightliner cabover and trailer and started hauling grain as an independent owner-operator.
In 1990, he landed a job hauling for Stanton Livestock, the company that hauled cattle from his family's farm. Five years later, he found his current run with Waterloo, Iowa,-based Warren.
Conn has driven 2.25 million accident- and violation-free miles. His safety record helped in his being named a finalist in the Truckload Carriers Association's Owner-Operator of the Year contest in 2009.
Conn says owner-operators must watch expenses and anticipate problems, especially with maintenance issues. He does most of his own maintenance – a craft he learned working as a full-time mechanic in a local repair garage after graduating from high school.
"You have to keep up with things," Conn says. "If you see something that's going to be a problem, fix it or change it. Maintenance is a big issue with costs and making things work. If you're broke down all the time and just don't take care of things, the costs will overwhelm you eventually."
Conn's dispatcher, Dan Davis, says Conn uses his "good head for the business" to make his operation run smoothly. "He's been doing it for a long time," Davis says. "He knows the ins and the outs of long hauls and he's also done local dedicated hauls where it's just a daily grind every day. He keeps a positive attitude and takes things the way they come and deals with it the best way he can."
Warren safety director Clayton Fisk says Conn's safety record speaks for itself, and his well-maintained appearance and professionalism make him one of a kind.
"He's a big believer in setting a good example on the road," Fisk says. "He's a very hard worker and his truck is immaculate. He plans ahead, and he's always trying to figure out the proper way to do things."
Davis also says Conn's persistence has helped his career flourish. "It's just his stick-to-it-iveness," Davis says. "He's seen the good and the bad of the trucking industry, but he's managed to keep a cool head and work through it."
His positive attitude helped Conn net roughly $60,000 in recent years on his trucking business.
Six years ago, Conn and Emily decided it was time for a new challenge. After the owner retired from the gift shop where Emily worked, The Bitter Sweet Branch, the couple bought the shop. The stress of owning and running two businesses can be a strain, Conn says, especially on home and family time. But "it usually seems to all work out," he says.
"Life's pretty hectic, but it's self-inflicted, because we're both self-employed," he says. "It's a job, but in a way, it's not. When I get up every day, it's another day and it might be a long day, but you have to get after it. If I ever reach a point where I don't enjoy it anymore, I might move onto something else, but that hasn't quite happened yet." n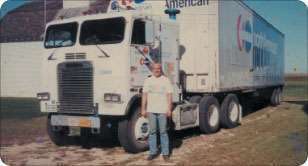 1965 Born Oct. 18
1984 Graduated from high school in Greene, Iowa
1987 Completed driving school with North American Van Lines
1987 Bought his first truck, a 1985 Freightliner cabover
1995 Leased to Warren Transport
1998 Married Emily Siefken
2003 Purchased Bitter Sweet Branch gift shop
2003 Purchased new Peterbilt 379 extended hood
2009 Son, Cooper, born Feb. 27
Trucker trivia
GAMES OF COWBOYS and Indians attract Conn to Single Action Shooting Society events on weekends. Participants must dress in 19th century-style clothing. The contests have different stages, based on specific historic events. Competitors shoot single-action revolvers, rifles and shotguns and are scored on time and accuracy.
ANTIQUE SHOPPING on the weekend is a "good little family outing" and takes on new meaning for the Conns, who own a gift shop. Most of their finds go on display in his wife's gift shop – not for sale, Conn says, but just for "looks and atmosphere."