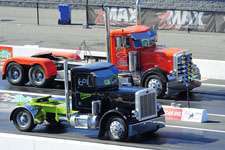 The inaugural Diesel Super Show in Concord, N.C., opened Friday, Oct. 8, with the fourth of five Custom Rigs Pride & Polish events for the year.
The show, at the z-Max Dragway at the Charlotte Motor Speedway, includes trucking- and construction-related exhibits, truck drag races and a free country music concert.
Highlighting Saturday's events are the Pride & Polish award ceremony at 11 a.m. EDT, drag trials and finals (trials were rescheduled for Saturday) at 1 p.m. and a free concert featuring John Rich, formerly of country band Big and Rich, and Corporal Norm at 7 p.m.
Entry registration for the drag trials has been extended to 10 a.m. Saturday, and admission to the races is free for show attendees.
Admission for the show is $20 for a two-day pass or $15 for a one-day pass. Tickets for children ages 7 to 16 are $10 for two days or $7 for one day. Children 6 and under can attend for free.
John Contrones, a Charlotte resident and owner-operator leased to FedEx Ground, says he attended the show to see "what's new and upcoming in the industry. I came down to see going on in the diesel world. This is my first show, but it's going pretty good so far."
Mike Murphy says he drove the three hours from his hometown in West Jefferson, N.C., to catch up on new equipment. Murphy attends Wilkes Community College and is studying to become a diesel mechanic. "I just came to see the new stuff," he says. "Mostly the EPA 2010 stuff. This is the only truck show in the area."
Macclenny, Fla., resident Joey Johnson, an independent owner-operator, made the trip for the drag races, he says. He attends other shows in the area, he says, "but none of them have drags. I wanted to come see what it was all about," he says. "I like drag races, and I like big trucks, so I thought it would be cool to see both together."
The show is produced by Randall-Reilly Business Media and Information, which also produces the Great American Trucking Show and Great West Truck Show, and publishes Overdrive, Truckers News, Custom Rigs and other trucking and construction publications.