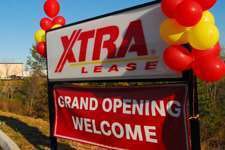 Trailer rental and long-term lease company Xtra Lease's Nashville, Tenn., branch location hosted a grand opening at its new 20-plus acre facility in La Vergne, Tenn., off I-24 exit 62.
When record rainfall in early May caused widespread flooding throughout much of middle Tennessee – in Nashville, the Cumberland River rose 32 feet in less than 48 hours – it "struck Nashville very hard," said Xtra Lease Senior Vice President Bob Keller in opening remarks. "And it hit Xtra Lease with a pretty big punch and, quite frankly, destroyed our facility."
Close to 600 trailers were trapped in floodwaters at the company's Visco Street facility along the river just east of downtown. A heroic effort to rebuild 200 of those 600 trailers then ensued, with Nashville Operations Manager Paul Garnett and Branch Manager Kim Thomas leading the team through the process, completed in early August.
Said Keller, "When tragedy hit… everybody came together, including our central station, including our home offices. We had a call to action to get things back up. Our team here in Nashville has always had a true commitment to customer service… If you call, they will find a way to get you the transportation solution you're looking for. Today, only a short time after the disaster, you see the results in this new facility."
Xtra Lease has 70-plus locations throughout North America. The grand opening program included demonstrations of vehicle inspections conducted by the Tennessee Highway Patrol. Seminars and presentations from Xtra Lease and other industry experts on trailer tracking technology, trailer spec'ing, CSA 2010 information and safety best practices rounded out the program.