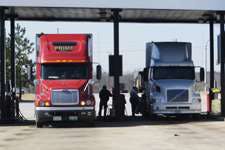 The average weekly on-highway diesel price surged for the second straight week, increasing 6.8 cents a gallon this week to the highest level in more than two years, according to the U.S. Department of Energy.
The national average price of $3.184 is the highest price since $3.30 the week of Oct. 27, 2008, based on DOE figures. The current price is 39.4 cents higher than a year ago.
Prices at all regions tracked by DOE rose dramatically, led for the second consecutive week by the Rocky Mountain region's increase of 7.9 cents to $3.278. The East Coast increased 7.3 cents to $3.187, while the Midwest climbed 6.5 cents to $3.167. California stayed the most expensive, climbing 6 cents to $3.339.

For state-by-state diesel prices, updated daily, click here.