After two weeks of small declines, the average weekly on-highway diesel price surged in the latest week to a two-year high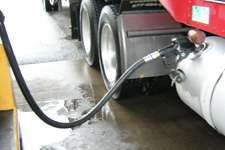 , according to the U.S. Department of Energy.
The national average price jumped 3.5 cents to $3.197, after falling 2.2 cents the previous two weeks. The current price is 42.5 cents higher than a year ago.
Prices in all individual regions tracked by DOE increased. The Gulf Coast rose 5.4 cents to $3.132, while the East Coast gained 4 cents to $3.206, including a 7.8-cent increase for New England. The Midwest climbed 3.1 cents to $3.175. The West Coast increased 2.1 cents to $3.321, and California gained 2.4 cents to $3.352, the most expensive.

For state-by-state diesel prices, updated daily, click here.