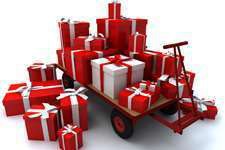 Trucker-themed gifts, including instructions for making your own trucker gifts, abound online.
The recession has probably only helped the popularity of crafting, with the Craft & Hobby Association reporting 56 percent of households crafting at least one project in 2009. Today, homemade gifts are not necessarily made only by the female friends and family of truckers.
Last March, the Wall Street Journal reported sewing, including knitting and crocheting, had gained popularity among truckers, including male truckers interviewed who found it relaxing Truckers can be found online discussing these interests, such as the long-haul trucker's blog Knitting on the Road and Beverly Elrod, the BellaOnline Crochet Editor, who used to crochet while trucking.
Putting "truck" into the search engine of http://knittingpatterncentral.com, will yield a few free truck knitting patterns, such as a truck dishcloth. If you would rather bake, you'll find recipes to create cakes decorated and shaped like trucks. Several recipes required a few hours to create, including this one at http://video.meredith.kargo.com/content/cake/recipe/5707742/Pound-cake-semi-truck.
A special time in the trucker's life can be memorialized with a scrapbook, both traditional and digital. Free software and instructions for making a digital scrapbook is available at www.picaboo.com.
If your trucker has mentioned seeing an item at a truck stop chain or a truck dealer, check the company's website for details. When buying anything, even if it is items to create a gift, use a price comparison website. You can check prices for an item by city or online easily at various websites, such as www.thefind.com.
That website might be a good place to start to shop for Ebook reader devices such as Kindle, which are popular among traditional book readers and have recently dropped in price. Free electronic downloads of books for various devices, including iPods, are available through public libraries and websites such as www.gutenberg.org.
You never know what you can find on discount websites, which include www.overstock.com, but also major store chains such as www.searsoutlet.com.
Websites specifically targeting trucker needs include www.roadtrucker.com. At www.truckillustration.com, you can have an image made for your truck by uploading a photo to the site. Two prints, one color and one black-and-white, can be had for $99, although information about how long it takes to receive the prints wasn't available on the website.
Hats, T-shirts, mugs and stickers with statements such as "My other ride is a big rig" may be ordered at www.bigstrappergear.com.
A search on Amazon.com will turn up a treasure trove of trucker movies and books. "The Wages of Fear," a 1953 thriller with English subtitles, won at the Cannes Festival for its tale of truckers dealing with danger in South America. You'll find trucking books, fiction and non-fiction, for all ages, including truck baby books.
Always check the delivery time. For example, standard shipping through Overstock.com delivers most orders within five to 10 business days, but expedited shipping might be able to get it to you in one day.
If you still feel baffled, gift cards for various retail stores may be purchased in chain stores, including grocery and drug stores, and most online websites offer cards for their businesses as well. They'll even mail you the card.