In the magazine's early years, trucks and models went hand in hand.
As attractive as they were, the trucks that adorned the covers of Overdrive's first 25 years often got upstaged by sexy models.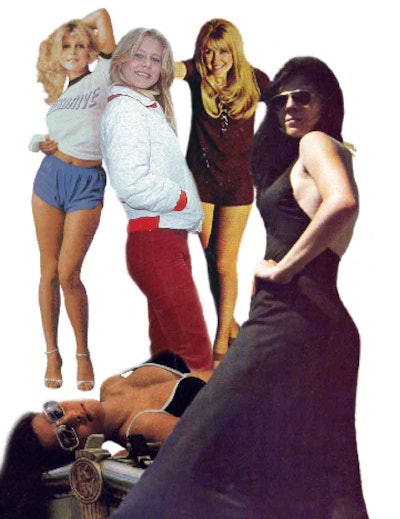 The cheesecake photos also ran inside the magazine. In the early '60s, truckers nominated wives, relatives or trucking employees for the monthly Miss Overdrive. Later the magazine featured models as Date Masters. The occasional photos that posed these beauties in sleeper bunks were none too subtle for male readers traveling alone for days or weeks.
After spicing up the magazine, some of the leggy sirens went on to notable careers. Lynda Wiesmeier modeled for Playboy in the early '80s, near the time she was featured in Overdrive. She appeared in nearly a dozen movies during that decade. Lexie Brockway, Miss World 1973-74, was featured in a 1975 story about the truck brand that shared her surname. She later became an ordained minister and authored the 1999 book "What is spirit?"
After Randall Publishing Co. bought the magazine in 1986, it focused the editorial mission on owner-operator business topics. Models were rarely used outside of advertising.
Still, the Overdrive beauties are part of the memories – and collections – of many older Overdrive readers, such as Werner Enterprises driver Mike Jake Pupillo, who keeps his issues from the '70s and '80s. "I loved the girls and model trucks," he says.
1985: Kenworth T600, the first truly aero conventional
BY JOHN BAXTER
The T600 paved the way for aerodynamic truck designs that have become increasingly popular. Kenworth engineers found the immense radiator and high, flat-topped hood of large conventionals was a primary source of wind drag. They made the radiator much narrower and shorter, producing a narrow, sloped hood. Truckers who did not like the look dubbed the T600 "the anteater."
But the redesign produced significant fuel savings at highway speeds and large reductions in cruise horsepower requirements. The aero design meant greatly reduced engine stresses and noise and better hill climbing and passing performance with less shifting, too.
In 1995, the U.S. Department of Transportation presented the original T600A development team with the National Award for the Advancement of Motor Vehicle Research and Development.
50 Years of Equipment Innovations
Visit OverdriveRetro.com to view some of the top 50 equipment milestones during Overdrive's 50-year history. New items will be added through September.

This Kenworth T600B was performing a 1990 cross-country fuel economy test.
Correction: Jackie Gleason, the sheriff in "Smokey and the Bandit," portrayed Junior's father. A story in the January issue incorrectly stated his role.
Let us know your favorite trucking memories. Write Lucinda Coulter at lcoulter@rrpub.com or Overdrive, P.O. Box 3187, Tuscaloosa, AL 35403.