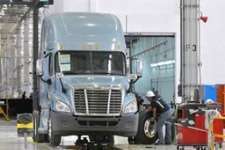 Class 8 commercial vehicles net orders for North American markets rose 159 percent to 29,200 units in March from a year earlier, according to ACT Research Co.
Net orders in March represented the largest monthly order intake since May 2006. Preliminary net order numbers are subject to revision and are typically accurate to within 5 percent plus or minus.
"March finished off a second consecutive quarter of elevated Class 8 demand," said Kenny Vieth, president and senior analyst. "Orders were booked in excess of a 300,000-unit annualized rate from October to March. Industry backlogs, which fell just short of 100,000 units in February, likely rose by another 8,000 to 10,000 units in March.
"With the uptrend firmly established, the question for 2011 is now the industry's ability to meet demand, instead of whether demand would rise to expectations. History shows that production always chases demand at the beginning of the cycle. Unlike orders, the industry needs to work in unison to raise production," Vieth said.