Cat offers vocational truck
Caterpillar's CT660 vocational truck isn't merely an International Workstar with yellow paint. Caterpillar engineers say their new truck is "essentially new from the frame rails up."
The set-back axle configuration Class 8 truck goes into production this month, with deliveries to begin in July.
Caterpillar CT11, CT13 and forthcoming CT15 engines are Navistar MaxxForce engines, with displacements of 11.1, 12.5 and 15.2 liters, respectively. Horsepower ratings range from 330 to 550 and peak torque ratings range from 1,450 to 1,850 lb.-ft.
Cat engineers put their own distinctive stamp on this truck with styling derived from the company's wheel loader line. They also emphasized cab ergonomics.
The CT660 has a brushed aluminum grille surround. The aerodynamic hood features a sloped design for increased visibility and decreased drag for greater fuel economy.
The truck's instrument cluster and center stack feature an integrated speedometer/tachometer that can be read through the steering wheel. Cat offers its Cat Link equipment telematics system as standard, with a complimentary three-year subscription on all CT660 trucks. The system gives drivers and fleet managers access to data including fuel economy, hours of operation, vehicle location, maintenance and trouble-shooting information. Other in-cab features include a premium sound insulation system to reduce road noise and a new HVAC system.
CATERPILLAR, NAVISTAR, cat.com, (309) 675-1000
MaxxForce 15
The new MaxxForce 15 diesel is available with up to 550 horsepower and 1,850 lb.-ft. of torque. Peak torque is reached at 1,000 rpm and holds steady to 1,600 rpm, the company says. This reduces gear shifts in uphill terrain and allows for shifting at lower speeds when accelerating.
The MaxxForce 15 will be built in Navistar's Huntsville, Ala., engine plant and is available in vocational configurations. Engine options for on-highway (non-vocational) applications will be available in late summer.
NAVISTAR, maxxforce.com
Freightliner introduces Severe Duty trucks
Freightliner has released a new family of work trucks – the Severe Duty line – aimed at Class 7 and 8 vocational markets.
The SD series will comprise 108- and 114-in. bumper-to-back of cab configurations — both with set-back axle positions as well as a Coronado SD version for extreme heavy-hauls and severe off-road applications. The 108SD features a 42-in. set-back axle with rating from 10,000 to 20,000 pounds and single and tandem rear axle options from 21,000 to 46,000 pounds. Power options include a standard Detroit Diesel DD13 and Cummins ISB and ISC diesels.
The Freightliner 114SD vocational truck features a set-forward axle with a standard 31-in. position or an optional 29.5-inch bridge formula configuration, and a set-back 48-in. setting for enhanced maneuverability. Front axle ratings are available up to 23,000 pounds, and heavy rear axle configurations for single axles are available up to 38,000 pounds. Tandem rear axle ratings range up to 58,000 pounds and tridem ratings are up to 69,000 pounds.
FREIGHTLINER, freightlinertrucks.com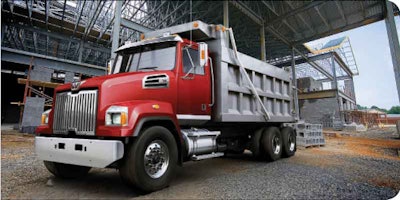 Western Star's 4700 for vocational use
Western Star's Class 8 vocational truck, the 4700, is targeted at dump, mixer, crane, roll-off, sewer-vac and plow applications. It is available in a set-forward and set-back configuration and features a 110-in. from bumper to back of cab. Engine options include a Detroit Diesel DD13, Cummins ISC or Cummins ISL.
WESTERN STAR,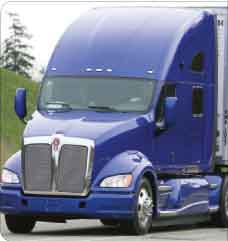 Kenworth improves T600 specs
Kenworth Truck Co.'s new T660 regional hauler configuration offers shorter wheelbases, tighter chassis packaging, enhanced maneuverability and weight savings, the company says. The new T660 configuration removes the standard under-cab chassis fairing and replaces it with a cab-mounted extension of the hood fender. This allows larger diameter 24.5-in. and 28.5-in. fuel tanks to fit under the cab.
The truck maker will also offer a new line of seats exclusively for the T700. The new Kenworth GT701, GT702, and GT703 seats offer an advanced air suspension system that can automatically adjust to the driver's weight. It also offers an adjustable shock that provides drivers with various height adjustments.
All GT700 series seats offer optional heating, while the GT703 adds the option for cooling with premium leather covering. The GT703 also comes with an upper back adjustability feature that provides improved shoulder and neck support over various recline angles.
KENWORTH, kenworth.com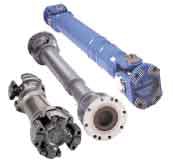 Aluminum driveshaft
Dana's new Diamond Series aluminum driveshaft joins Spicer steel U-joints to a new one-piece aluminum shaft, offering a driveshaft that is as strong as conventional designs, yet weighs up to 40 percent less, the company says.
Aimed at heavy-duty commercial trucks using two-piece steel driveshafts of 7.5 feet, the one-piece design — without the center bearing and one universal joint — reduces component wear, the company says. High-strength aluminum offers corrosion resistance. The driveshafts will be available late in the fourth quarter.
DANA, dana.com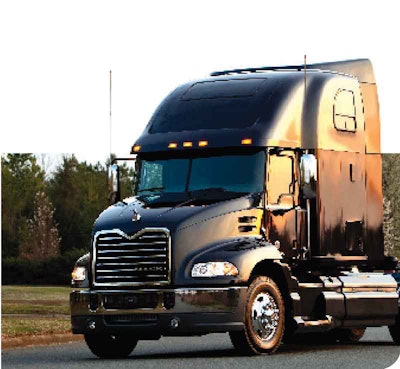 Mack's fairings help fuel efficiency
Aerodynamic enhancements to Mack's on-highway Pinnacle can increase fuel efficiency by up to 12.5 percent, the company says.
New roof fairings and chassis fairings headline the new aero features. The roof fairings are available on the 70-in. model high-rise sleeper and the 60- and 70-in. model mid-rise sleepers. The chassis fairings are longer and lighter than on previous models.
Two new aesthetic options, a one-piece windshield option and a Grand Touring trim level, are also available.
MACK, macktrucks.com,
(800) 866-1177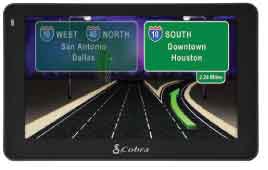 PRO Navigation System
The 5550 PRO Navigation System features Junction View with Lane Assist, state mileage log, hours-of-service log and last-mile routing for road coverage on secondary highways. The Quick-Tabs feature includes navigational details such as distances to weigh stations, travel centers, rest areas and mile markers and includes more than 12 million standard points of interest and 33,000 truck-specific points of interest. It comes with three months of unlimited downloads from Cobra's AURA Camera & Driving Hazard Database, which alerts drivers to locations of fixed speed and red-light cameras, dangerous intersections and known speed traps. The unit has a 5-in. LCD screen.
COBRA, cobra.com, (773) 889-3087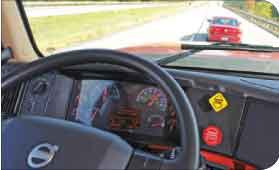 Collision mitigation system
Bendix Wingman Advanced, a collision mitigation technology, uses a radar sensor mounted to the front of the vehicle. The system delivers warnings and active interventions to help drivers avoid rear-end collisions. A stationary object alert system notifies drivers of metallic objects in the vehicle's path, allowing three seconds for driver response before impact.
The adaptive cruise control with braking feature can actively intervene to help maintain a safe following distance behind a forward vehicle by reducing throttle, engaging the engine retarder or applying the foundation brakes, the company says. Bendix is working on implementation with truck manufacturers.
BENDIX, bendix.com

GPS unit predicts traffic speeds
The Rand McNally IntelliRoute TND line of over-the-road GPS units offer historical and real-time traffic views. The historical traffic function is based on data compiled from accident reports, public sensors, weather, construction and local events. It predicts expected road speeds on most freeways and major highways in the United States.
The real-time traffic is available via a plug-in accessory, which includes lifetime traffic provided by NAVTEQ. The real-time function allows drivers to assess driving times based on traffic accidents or bottlenecks, and the units reroute trips accordingly.
RAND MCNALLY, randmcnally.com/truckgps
TerraStar 4×4 vocational truck
The TerraStar 4×4 truck is designed for construction, utility, landscape and other off-highway applications. Its 300-hp, 6.4-liter MaxxForce 7 V-8 engine delivers 660 lb.-ft. torque and features a compacted graphite iron block for strength. The tractor features MaxxForce Advanced EGR emissions technology and a chassis structured to accommodate equipment mounting.
INTERNATIONAL, internationaltrucks.com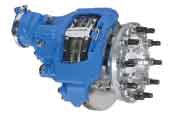 Air disc brakes standard on Petes
Peterbilt will make front-axle air disc brakes standard across its entire Class 8 truck and tractor line. The decision to offer front-axle air disc brakes as standard on Class 8 trucks is in advance of enhanced federal stopping distance standards that begin in August.
Also, Peterbilt announced a Speed Control Management System that provides drivers with progressive, fuel- efficient shifts while coaching drivers to drive more efficiently; a new Model 382 vocational truck in both day cab and extended day cab versions; and an all-wheel-drive version of the Model 348 vocational truck.
PETERBILT, peterbilt.com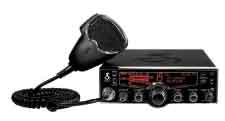 Hour-logging CB Radio
The 29 LX CB Radio features a clock-timer that enables drivers to track their on-time driving hours and functions as an alarm clock, a weather alert scan that advances to the clearest NOAA weather channel and a Radio Check Diagnostic to allow drivers to continuously monitor the radio's RF power output, antenna system and battery voltage. The radio includes a 4-watt AM RF power input, Delta Tune to clarify incoming signals and adjustable Dynamike boost to increase the microphone's sensitivity for increased voice clarity, the company says.
COBRA, cobra.com, (773) 889-3087
Online invoice system
Pegasus TransTech introduced TransfloWeb application, an online document management system that allows users to create and send invoices electronically. Users also can view, store, print and email delivery documents. To use the system, documents are scanned into Transflo Web using either Transflo Express or Transflo Now! document scanning systems.
PEGASUS TRANSTECH,
pegasustranstech.com, (800) 783-8649

Ultracapacitor for truck starts
Maxwell Technologies will market later this year an ultracapacitor that will replace one or two truck batteries and help start a truck. The unit is dry, maintenance-free, saves weight and provides protection against no-starts, the company says. It stores electricity on metal plates rather than through a chemical process used in batteries, making it less sensitive to cold temperatures. Minimal degradation occurs as the temperature drops from 100 degrees to below zero, the company says.
The unit offers less resistance to current flow than a battery, enabling it to crank the engine substantially faster. The unit stores enough energy for three potent cranking cycles of about four seconds each.
MAXWELL TECHNOLOGIES, maxwell.com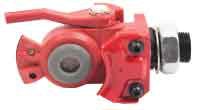 Gladhands protect air system
The Shut-Off Gladhands for double trailers are designed to keep debris out of the air system with integrated shut-off valves and have dust flat seals and filter screens for added protection. The zinc die-cast surface and a bulkhead mount protects against damage from magnesium chloride, road salts and chemicals. The gladhands are color-coded — blue for service and red for emergency.
PHILLIPS INDUSTRIES, phillipsind.com

HVAC systems
New Enviro-Fleet aftermarket HVAC systems for sleeper cabs are available in under-bunk, rooftop and back wall options. The self-sealed units eliminate refrigerant lines and require only external electrical power.
Two back wall models range from 9,400 Btu to 1,300 Btu AC and 8,000 Btu heat. Two rooftop models have cooling capacities of 13,500 Btu and 15,000 Btu and an integrated 5,600 Btu heater. The under-bunk model provides 14,000 Btu AC and 8,000 Btu heat. Weights range from 80 pounds to 140 pounds. All models use onboard generators and shorepower, and the under-bunk unit and the smaller capacity back wall units can run on four or six absorbed glass mat batteries.
ENVIRO-FLEET, enviro-fleet.com,
(800) 741 6603
Great Dane trailer enhancements
Great Dane reduced weight of its Classic Truckload refrigerated trailer. Its bonded roof construction reduces weight while increasing durability and maintaining thermal efficiency, the company says.
The Composite trailer's new heavy-duty bottom rail option features a 21-in. high, one-piece aluminum extrusion that replaces the standard 11-in. bottom rail and eliminates the need for a 6-in. integral steel scuffband.
GREAT DANE, greatdanetrailers.com, (912) 644-2100
New valve for refrigeration units
The Electronic Throttling Valve is designed to reduce fuel costs, extend maintenance intervals and improve temperature control performance on Thermo King's T-series single-temp truck units with scroll compressors. These units include the T-600, T-800 and T-1000. The valve feeds its position back to the electronic controller, and can be set to more than 700 positions to account for weather and load. In addition to fuel and maintenance savings, the box temperature recovers more quickly after a lengthy door opening, the company says.
Enhancements also include a controller that allows data transfer to a USB flash drive, saving 180 hours a year for an average 500-vehicle fleet by eliminating time spent cabling a laptop to the reefer units.
Another enhancement, scheduled for June, will be the TracKing telematics system, which will use cellular, satellite and GPS technology to provide temperature, location and real-time alarm information.
THERMO KING, thermoking.com, (888) 887-2202

Trailer aerodynamic device
Trailer aerodynamics parts manufacturer ATDynamics' TrailerTail Nano is a smaller version of the company's rear-drag-reducing trailer add-on. The Nano is roughly half the size of the original TrailerTail, is designed for use in inner-city operations and pup-trailer fleets, and complies with Canadian regulatory requirements, the company says. It extends the length of the trailer about 2 feet, half that of the standard TrailerTail. The Nano will be available this fall.
ATDynamics, atdynamics.com, (650) 871-5156
Mobile system includes EOBR
Qualcomm's new Mobile Computing Platform 50 is a lower-priced alternative for small and medium-sized fleets, the company says. The MCP50, to be available this fall, includes an electronic on-board recording system compliant with Federal Motor Carrier Safety Administration regulations; Critical Event Reporting with dashboards to track and improve driving performance; On-board navigation; and Analytics Manager to provide information on operational performance in dashboards, graphs and tables.
QUALCOMM, qualcomm.com

On-board scale
Air-Weigh's Quickload on-board scale is designed to work in harsh climates and applications. Quickload can be mounted in various positions on the trailer exterior and installed in about 20 minutes.
New features include an icon-based touch screen; multiple display, alarm and program settings; and built-in warning weight and overweight alarm LEDs that shine forward, rearward and outward. Additional features include a built-in battery for untethered operation and an industry standard data interface that can be set to J1939 or RS485 protocols. The new scale will sell for $485, and can pay for itself in about 20 uses, the company says.
AIR-WEIGH, air-weigh.com,
(888) 459-3444