Preliminary Class 8 truck net orders for North American markets climbed to 38,200 units in April, a 158 percent increase from a year earlier, according to ACT Research Co.
Net orders represented the largest monthly order intake since March 2006, ACT said. Preliminary net order numbers are subject to revision.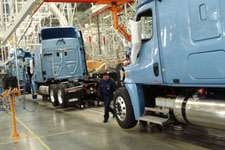 "Every cycle has one or two of those months when the breadth of participation rises and a confluence of events leads to these types of results. April happened to be that month this cycle," said Kenny Vieth, ACT president and senior analyst.
"The list of positive drivers leading to the April order spike is long: Healthy freight, increasing trucker profits, pent-up replacement demand, rising used equipment prices, improving credit worthiness, rising prices for new vehicles, and lead times for new equipment that have pushed out to the end of the year," Vieth said. "If that was not enough, there is the accelerated depreciation schedule for 2011 to consider."