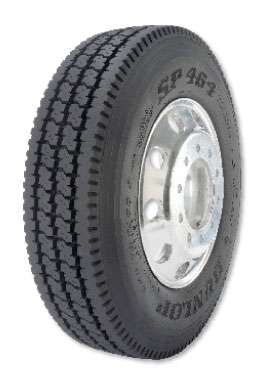 Long-haul drive
The SP 464 long-haul drive tire features a 28/32-in. tread depth in a tread pattern with three hydro grooves that help evacuate water. The tire also has penetration protectors made to resist cuts and punctures. It comes in four sizes: 11R22.5 LR G, 11R24.5 LR G, 295/75R22.5 LR G and 285/75R24.5 LR G.
DUNLOP, www.dunloptires.com/truck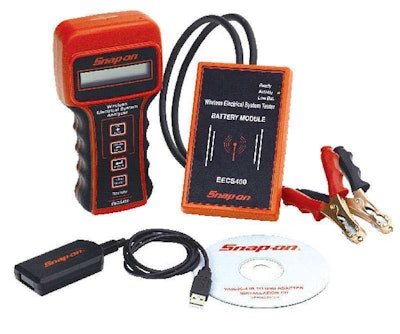 Wireless battery tester
The EECS400 Wireless Battery System Tester checks battery, starting and charging systems wirelessly and displays battery condition as percentage of available capacity, related capacity and state of charge as a good, marginal or replace status. The tester comes with a hand-held receiver, battery module with leads, USB adaptor for PC printing, Microsoft PC data template CD, brass post adaptors and carrying case.
SNAP-ON, www.snapon.com
Refrigeration unit monitoring
The FuelCheck ultrasonic monitoring app for Vector and X2 Series trailer refrigeration units alerts drivers when low-fuel situations could lead to a system shutdown. It also enables fuel-consumption tracking.
CARRIER TRANSICOLD,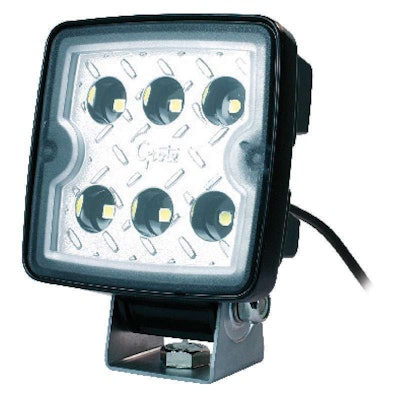 LED thermal lamp
The Trilliant Cube LED WhiteLight Work Lamp is an LED thermal lamp that uses one-third the power of a halogen lamp. The 4-by-4-in. lamp has an illumination rating of 1,000 lumens, a service rating of 50,000 hours and features two beam patterns with a wide flood pattern.
GROTE, www.grote.com
Front steer axle
The Steertek NXT fabricated front steer axle is designed to save weight and minimize stress points, the company says. The axle accommodates various wheel end and knuckle designs and meets a capacity range of 8,000 to 23,000 pounds.
HENDRICKSON, www.hendrickson-intl.com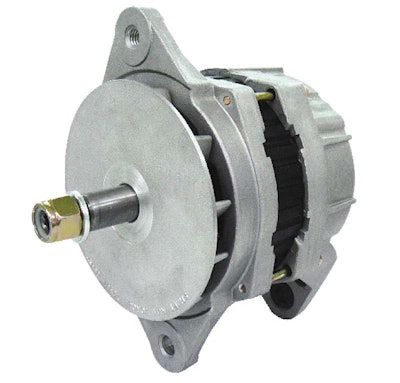 Aftermarket alternator
New alternators for medium- and heavy-duty trucks feature the RE022 brush series with 150 amps of power and the RE 555 brush series with 160 amps, both with a 1-year warranty. The RE035 brushless series features 140 amps and the RE036 includes 170 amps. Both systems have remote sensing capability to extend the service life of truck batteries. Both come with a 3-year warranty. The TRP alternators are designed to meet original equipment maker specifications and rated up to 221 degrees Fahrenheit.
TRP, www.trpparts.com

Cup holder
The Cup Keeper Adapter fits into the existing cup holder opening and accommodates any size mug, cup or bottle.
MCNAUGHTON,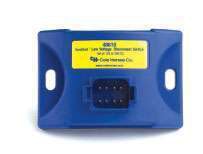 Voltage sensing relay and timer
The FlexMod Voltage Sensing Relay & Timer conserves battery starting power by shutting off auxiliary loads when starting voltage drops to a low level or a pre-set timer expires. The 4- by 3- by 1-in. system alerts the operator when starting voltage is low and cuts off non-essential loads such as air conditioning and exterior lighting to conserve starting power.
COLE HERSEE, www.colehersee.com
Backlit logo displays
The backlit logo displays are designed for each customer's logo and increase a trailer's night visibility. The customized Logolight features solid aluminum brackets and frames, aluminum composite letters, 80,000-hour LEDs and stainless steel-mounting hardware. Installation kit is included.
LOGOLIGHTS INC., lightmylogo.com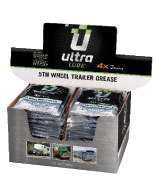 Fifth wheel grease
UltraLube 5th Wheel Trailer Grease provides protection against friction and corrosion in extreme weather and heavy-duty operating conditions. The grease is packaged in a 2 oz. mash pack to help drivers and service technicians control the amount of grease applied to the fifth wheel.
PLEWS & EDELMANN, www.ultralube.com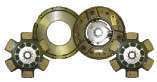 Severe service clutch
The New Lipe Clutch, a 15.5-in. cast iron direct pressure clutch, has a torque rating of 2,400 pounds and is made for severe service applications and for high-horsepower, high-torque engines.
Setco Automotive, setcoauto.com
High Power Density engine brake
The High Power Density engine braking technology provides large displacement retarding power in small and medium displacement engines. It consists of two braking rocker arms and two collapsible bridges per cylinder, which enables a second braking event to occur during each engine cycle, by deactivating the main intake and exhaust events via the collapsible bridges and actuating the two braking rockers.
JACOBS VEHICLE SYSTEMS, www.jacobsvehiclesystems.com
Permanent coolant leak repair
K-Seal HD is a ceramic and copper formula that mixes with all types of anti-freeze to make permanent repairs to cooling systems on all larger capacity engines. K-Seal stops leaks in the engine's block, head, radiator, heater matrix, freeze plugs and the head gasket by pouring the contents into the engine coolant. One 16-oz. bottle treats cooling systems of up to 50 quarts capacity.
SOLV-TEC, www.solv-tec.com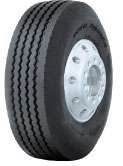 New tire sizes
Three new sizes of Toyo commercial tires are M122, size 285/75R24.5, and M608Z, sizes 215/75R19.5 and 265/70R19.5. The tires are all-position, drive-axle, free-rolling and on/off road applications.
TOYO TIRE, www.toyotires.com
Extended service interval grease
Delo Grease ESI extended service interval grease should be drained at a 30,000-35,000-mile interval. Its viscosity is between NGLI No. 1 and No. 2 greases, designed for general chassis purposes from the fifth wheel to wheel bearings.
CHEVRON, chevron.com
Battery status indicator
The Battery Status Indicator monitors any battery's power state, particularly for lift gate batteries, and alerts operators during pre-trip inspections that battery power may be low. The LED light flashes green if battery voltage is more than 12.4 volts, or 75 percent power, and blinks red when the voltage falls below 12.39 volts.
PHILLIIPS, phillipsind.com