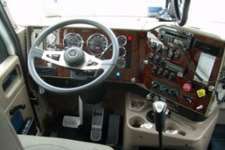 Turnover for longhaul truck drivers increased in the first three months of 2011, according to the American Trucking Associations' latest Trucking Activity Report, ATA said June 22.
The turnover rate for drivers at large truckload fleets rose to an annualized rate of 75 percent in the quarter ended March 31 – up from 69 percent in the fourth quarter of 2010 and 39 percent in the same quarter last year.
"The driver market is tightening," said ATA Chief Economist Bob Costello. "We hear nearly every day from fleets who cannot find enough drivers to meet demand."
As the driver market tightens, turnover increases as drivers tend to jump from carrier to carrier, according to ATA's report. The turnover figure is the highest since the second quarter of 2008. Turnover at small truckload fleets rose just one percentage point to 50 percent in the first quarter, reaching its highest point since the third quarter of 2008. Less-than-truckload fleets continued to experience a low turnover rate, with the figure rising to 8 percent from 6 percent the previous quarter.
"With the economy continuing to recover from the Great Recession, the implementation of new regulations and the number of retirees outpacing the number of drivers entering the industry, I expect to see the turnover rate continue to rise," Costello said.