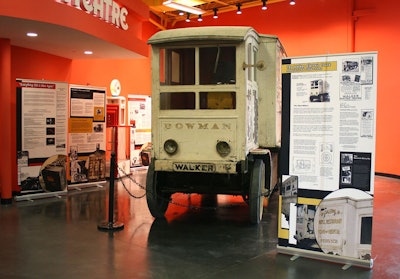 The Iowa 80 Trucking Museum will host a 100th birthday party for its 1911 Walker Electric truck at 2:30 p.m. Friday, July 15, the museum announced. The celebration will coincide with the Walcott Truckers Jamboree, July 14-15.
The 1911 Walker was purchased by the museum at an auction several years ago and is one of only a handful of Walker Electric trucks known to still exist. The Chicago-based Walker Electric Vehicle Co. manufactured electric vehicles until 1941. The trucks were mostly used in major cities for delivery of ice cream and other dairy products, baked goods and dry goods.
The truck owned by the museum was used by Bowman Dairy to deliver milk to hospitals, restaurants and hotels.