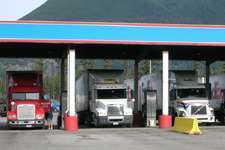 Following the announcement of U.S. and international plans to release oil from strategic reserves, the national average retail price of diesel dropped sharply during the week ended June 27, according to the U.S. Department of Energy's Energy Information Administration. The national average price plunged 6.2 cents to $3.888.
Since May 2 the national average price has fallen 23.6 cents and is at its lowest level since March 7.
Average prices in all regions plunged in the latest week, led by a 9-cent drop to $4.146 in California and 8.7 cents to $4.069 on the West Coast excluding California.
The national average price is 93.2 cents higher than a year ago. The record diesel price was $4.764 in July 2008.
For diesel price information, click here.