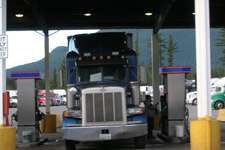 For a second straight week, the national average retail price of diesel rose the week ended July 18, according to the U.S. Department of Energy's Energy Information Administration. The national average price increased 2.4 cents to $3.923.
Average prices in all regions but two declined in the latest week. The biggest gain of 4 cents to $3.912 was in the Lower Atlantic region, while the East Coast as a whole rose 3.7 cents to $3.963. The Rocky Mountain region fell 1.1 cents to $3.827, while the West Coast dipped 0.7-cent to $4.005.
The national average price is $1.024 higher than a year ago. The record diesel price was $4.764 in July 2008.
For diesel price information, click here.