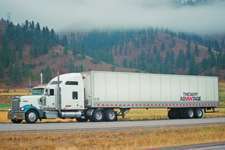 Dart Network has eliminated 67 non-driving jobs to allow the Minnesota-based company to focus resources on recruiting and retaining truckers.
Dart Network has more than a dozen companies, including Dart Transit Co., the truckload dry van carrier. On July 18, Dart Transit cut 48 non-driving support jobs, while Dart Network reduced staff by 19.
The recession and increased federal safety regulations have made hiring and keeping truckers more difficult, especially owner-operators, said Dan Oren, Dart executive vice president. "Our contractors are very busy with freight — we have enough freight for an additional 400 contractors," Oren said. "Going forward, our objective is to focus our resources on recruiting and grow our professional driving capacity."
Steve Gundale, Dart Transit's corporate communications director, said the downsizing would allow Dart to offer owner-operators the "strongest possible" compensation to deal with the driver shortage. "We continue to actively recruit new contractors and fleet drivers and we will continue to be fully competitive in a difficult recruiting market," Gundale said.
More than 2,500 owner-operators are leased to Dart. Last December, when Fil-Mor Express unexpectedly closed, Dart bought the assets of the former competitor and began recruiting its drivers.