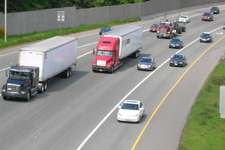 Truck tonnage as measured by the American Trucking Associations' seasonally adjusted index rose 6.8 percent in June from a year earlier and 2.8 percent from May, ATA said July 26.
June's gain followed a 3 percent year-over-year gain in May, ATA said in its for-hire truck tonnage report. The gain was originally reported as a 2.7% increase. May's tonnage declined 2 percent from the previous month.
ATA's not seasonally adjusted tonnage increased 5.3 percent from May.
ATA Chief Economist Bob Costello said June tonnage wiped out losses from April and May. "After growing 5.5 percent in the first half of the year from the same period last year, the strength of truck tonnage in the second half will depend greatly on what manufacturing output does," he said in a news release. "If manufacturing continues to grow stronger than GDP, I fully expect truck freight to do the same."