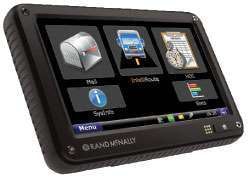 Onboard recorder
The TND 760 electronic onboard recorder integrates into a truck's onboard computer to send and receive information via Wi-Fi and cell data. The unit includes a trucker-specific navigation system and standard electronic onboard recorder capabilities, such as email communication with fleets, driver and vehicle performance monitoring and hours of service compliance.
RAND MCNALLY, randmcnally.com, (800) 641-7263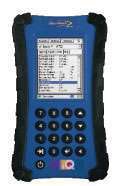 Hand-held diagnostic tool
The Blue-Point Pocket iQ with NIXIQ Technologies is a hand-held scan and triage diagnostic tool. It reads active fault codes, reads and clears inactive fault codes, and monitors J1708, J1939 and OBD II engine data. It allows technicians to save diagnostic and performance information in PDF or text format directly to a PLC3 printer or memory stick.
SNAP-ON, www.snap-on.com, 877-762-7664

Wheel hub temperature monitor
The Hub Alert label helps prevent overheating of wheel hubs. If the oil or grease on the wheel hub heats to 250 degrees, the label will turn black permanently, alerting the driver to inspect the wheel. A new label can be applied after inspection, and the labels are sealed against moisture, oil, grease, fuels, water and steam.
SPECTRA PRODUCTS, spectrainc.ca, (416) 252–2355

Remote microphone system
The Remote CB Microphone System allows drivers to operate standard 4-pin CB radios via a headset with a retractable cord. The microphone features noise-canceling technology, and the unit's push-to-talk button is affixed to the gear shift lever. The system comes with mounting hardware.
COBRA ELECTRONICS, cobra.com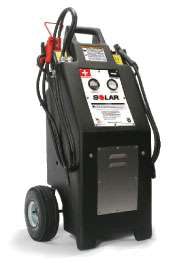 Mobile jump start
The HT1224 12/24V commercial jump starter's wheeled unit delivers 1,400 cold-cranking amps in 12-volt mode and 800 CCA in 24-volt mode. The HT1224 comes with two Group 31 batteries, 10-ft. jumper cable leads, an automatic battery charger and 10-in. pneumatic tires for increased mobility.
SOLAR, cloreautomotive.com,
(800) 328-2921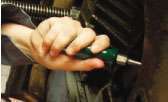 Multiuse hand tool
The SK Hand Tool is designed with a square handle and a no-slip grip that helps mechanics gain leverage and maximize torque. The screwdriver is resistant to solvents, oils and chemicals, resists rust and has a built-in hex bolter that doubles as a turning paver when used as a wrench.
SUREGRIP, www.skhandtool.com, 1-800-752-7263
Engine assembly lube
Assembly Lube is designed to protect against rust and corrosion in newly built or rebuilt four-stroke engines. The lube dissolves in oil, which helps eliminate oil port clogging and deposit formation. The lube is packaged in 4-ounce tubes.
AMSOIL, www.amsoil.com,
(715) 392-7101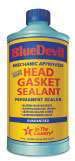 Head gasket sealant
The Blue Devil Head Gasket Sealant seals cooling system leaks to help prevent blown head gaskets, warped and cracked heads, heater cores and freezer plugs. Installation takes roughly an hour, the company says, and vehicles can be driven immediately after installation. The formula is non-clogging and safe in diesel or gas engines.
USA SEALANTS, usasealants.com, (888) 863-0426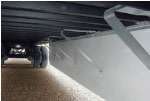 Trailer side skirt
A new advanced aerodynamic side skirt, the USS-120A, is U.S. EPA SmartWay certified, and its usage can lead to at least 5 percent fuel savings, the company says. Galvanized high tensile steel braces allow the skirt to move both inward and outward. The product is available factory-installed on new Utility trailers or as a retrofit for existing trailers.
UTILITY TRAILER MANUFACTURING, utilitytrailer.com

Tire gauge
The Tire Runout Gauge measures radial and lateral tire runout conditions to help eliminate irregular tire wear and ride vibration. The device uses a roller wheel placed against the tire tread combined with a gauge bar, individual low- and high-spot sliders and a magnified measurement readout that shows the amount of runout.
K-LINE INDUSTRIES, klineind.com
Weather-, theft-resistant tool box
The Hi-Side Truck Box has a gutter design and a full-weather seal to keep contents dry and includes a drill-resistant lock core. Hi-Sides come in three sizes and can fit most configurations with adjustable leg mounts. Accessories include an adjustable shelf and a parts cabinet.
WEATHERGUARD, weatherguard.com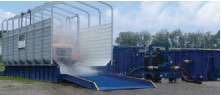 Truck cleaning system
The Vehicle & Equipment Washers system recycles and filters water for truck, trailer and tire cleaning. Systems can be customized to fulfill vehicle needs, the company says.
J&J TRUCK EQUIPMENT, jjbodies.com
LED truck logo sign
The new LED Truck Logo Signs, illuminated signs back-lit with LED lights, promote company logos at night on the highway. The signs can be made in any size and shape, and they use about 2.9 amps on a 12-volt direct current during operation.
IMAGE DISPLAY INCORPORATED, truckledsigns.com

Sleeper cab mattress encasement
The BugLock Plus mattress encasement helps prevent bed bug infestations. The waterproof encasement allows drivers to see the signs of bed bug infestation by making fecal spotting appear vividly. The BugLock has a three-sided zipper system that locks the encasement in place and prevents bugs from entering. It's available in twin and double sizes.
PROTECT-A-BED, protectabed.com,
(866) 297-8836