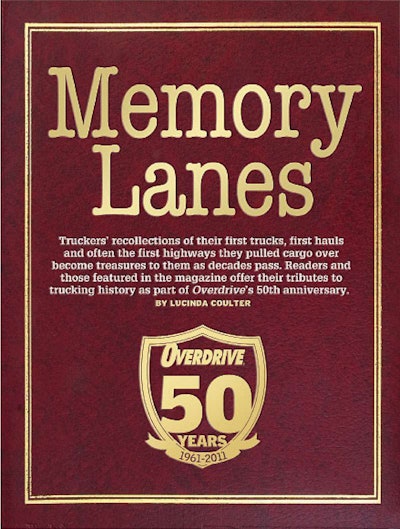 BRIAN KIMBALL: Produce hauling 'best job I ever hated'
"My father, Ed Kimball, passed on a legacy of hauling produce to his five sons and grandsons before he died in 2009. He expanded from hauling bananas through the Port of Tampa in the late 1950s to eventually owning Ed Kimball & Sons Trucking with his five sons.
"At 60, I now run a brokerage business out of Homestead, Fla. But hauling produce is the best job I ever hated.
"By 1965, my dad had leased to Greenstein Trucking Co, and we lived in Pompano Beach. My brother Glen and I stacked trucks at the Pompano Beach Farmers Market, and also worked at the Esso Fleet Truck Stop.
"Before we had pallets and pre-coolers, we air-stacked because produce fresh from the farm held field heat. If the field heat was too high, drivers opened the trailer vent doors. Most south Florida produce trailers in the '60s had two vent doors front and back, a door on the right front that led to an ice bunker, and 102-inch inside height so that we could stack bean hampers five high.
"Most Pompano teens who chose trucking careers drove for owner-operators and small fleets whose main hauls were northbound produce. Under ICC regulations, drivers younger than 21 were required to haul exempt products on the return trip. The guys at Chicago's South Water Market ribbed us, naming us 'baby truckers.'
"In 1975, 2,000 cartons of cucumbers shifted in a load my brother Kevin and me were pulling. Kevin talked to a flatbed hauler at the Perlis Truck Stop in Georgia, and he let us unload about 500 boxes so we could reload the cargo. After we stabilized the load, the trucker backed up his flatbed next to our back door so that we could load the rest of the cucumbers on our trailer.
"'You owe me nothing,' the trucker told us when we offered to pay him. 'Just help the next guy who needs it.'"
JOHN STEWART: Al's truck stop one of the wildest
"I could write about a hundred truck stops, but Al's in Ripon, Calif., is one of the wildest I remember in all my 48 years as a driver. One night in 1964, I had pulled into Al's parking lot and was walking from the 1956 Autocar diesel I drove to the restaurant when the swinging door flew open. Al had two drunk guys by the neck and was encouraging their departure.
"He threw them down the steps and into the parking lot and almost hit me. Al was a big man and didn't let anybody mess with him. I guess he knew he scared me because he said, 'Come in and sit with me.' He poured coffee into a cup for me and said, 'It's on me.'
"The owner of the 99 Oaks, at the bottom of the Grapevine's Five-Mile Grade, was also helpful. He fixed a flat for me once. I asked him what I owed him and he replied, 'Oh, 10 bucks.' I handed him the cash and climbed in the truck. But by the time I got the door shut, there was Howard, standing on my running board with the $10 bill and stuffing it in my shirt pocket.
"I guess he knew that was all the money I had. He said I could pay him on my next stop there, and that's what I did. That's just the way business was done years ago."
BOB CIACCIA: Getting started in the '70s
"In 1972, I purchased my first truck at age 19," says owner-operator Bob Ciaccia of Conshohocken, Pa. Ciaccia didn't even need a chauffeur's license in his home state to get started. "Most trucks I drove in the '70s were B model Macks with a duplex or a triplex tranny, made so that we had to reach through the steering wheel to make a shift. That could get a little hairy when going around a curve."
He paid 18 cents for a gallon of diesel during that era.
"I try to get young drivers to relate to that by telling them I would put 100 gallons in my saddle tanks, put a $20 bill on the fuel desk and get $2 back," Ciaccia says.
Running to Florida, the Pennsylvania native took U.S. Highway 202 to U.S. Highway 1 south into Maryland. From there, he took back roads to Interstate 95 at the Susquehanna River crossing.
Hand signals drivers used to warn other drivers about inspection checks or state troopers ahead were part of his routine. "We would make a sideways V sign with our fingers to warn of smoky taking pictures down the road," he recalls. "We had a great bunch of drivers who knew each other more by their truck than by their face."
His favorite mashed potatoes and gravy were at Ida Mae Joe's Truck Stop in Midway, Ga., on U.S. Highway 17. The truck stop closed in 2009.
ELLEN HILL: 'The Lady in White' gets behind the wheel
As a driver of a family half-ton pickup with a four-horse trailer, Ellen Hill made a smooth transition to commercial trucking. Her lifetime profession as a registered nurse played a part in her trucking years.
"In the early 1990s, as a registered nurse, I traveled in the state to test nursing assistants for their state certification. I talked to several of the same drivers on their regular routes over the CB radio. I even taught them CPR while traveling west on Interstate 80. Because of my white uniform and car, they dubbed me The Lady in White. The drivers challenged me, suggesting that since I liked to travel I should get a CDL and come out to join them.
"I did just that. My first loads were with a partner, hauling diapers, copper and beer east to New York City and into the New England states.
"Not all, but most male truckers were respectful of us women. Once, parked at a truck stop east of New York City, I headed inside about 8 that evening, still daylight. As I neared the doors, I saw a tall, slender black trucker and I figured he was not from the North because his pants were tucked inside his boots. He picked up his pace, got to the doors as I did, opened them and held them for me to walk through. 'I don't often do this, but you're one tough lady,' he told me.
"I returned full-time to nursing eventually. The pay and schedule were better. But I had no accidents, and despite long hours and paperwork, I enjoyed my whole experience."
CARRIE SHUBERT: 'The lion was great until …'
At 21, Carrie Shubert posed for Overdrive's cover and inside as the March 1975 Date Master – including a shot with a lion. Photographer Theo Ehret snapped the photos in the San Fernando Valley at the home of a professional wrestler who owned the large cat. "The lion was great until he started to roar, and it scared the crap out of me," the petite blonde says. "Believe me, I thought I was going to be attacked."
Since her modeling days, she's reared three children and recovered from losing her house in the 1994 Los Angeles earthquake. A nationally known psychic, she once hosted a radio show on voiceamerica.com, serves as a guest on radio shows and has taught a college class. For the last 16 years, she's developed a niche listening to and soothing people's angst, she told Overdrive this year.
"I feel like I have a gift that shows people everything's going to be OK," she says.
LES WILDERMAN: Early diesels 'a big step up'
"When I started trucking in Arizona in the 1950s, we had few luxuries. We had no spring brakes and no tractor protection valves. The shut-off valves were behind the cab then. Some of us re-piped the lines and put the valves inside the cab because if you lost your trailer air, you had a runaway on your hands.
"A lot of F800 Ford tractors had vacuum for trailer brakes because many of the trailers had no air systems. If you had to stop on a steep hill, you had to pull the control down and run out and put a block behind the wheel before the vacuum leaked off.
"The early diesels were a big step up. They had 175 horsepower, increased to 180 hp and then to 220 hp. People with a lot of money could afford more than 300 horsepower. Some early engines ran away if you ran out of fuel or got air in the system. You learned how to stop them with the gears if that happened.
"Before the Interstates were built, roads were never shut down. You went around wrecks or pushed them off with a Cat or something and kept going.
"For about 30 years, I've had a local heavy-haul operation that I started with an LT Mack and an old Freightliner cabover. Since then, I bought a 1974 Kenworth W900, which I still use in my business. It's not much money, but it's a good living."
RICHARD AND JACK DANIELS: A seasoned legacy
Kandel Transport Co. President Jack Daniels is heir in name only to the renowned whiskey maker. Formally named John, he's continued a trucking legacy his father, Richard Daniels, started in 1946. Richard, then 16, made his first long-haul run from his hometown, Hicksville, Ohio, to Parsons, Kan., for a load of Army surplus ammunition.
"Even pay phones were hard to find then," Jack says of that first haul his father made – in an International with a 28-foot single-axle trailer attached.
"Top speed on that truck was 50 mph wide open," Richard, now 80, says. "Pickups now are bigger than what I started driving."
After starting as a small-truck ice hauler in Florida, owner-operator Richard returned to Ohio and headed a small brokerage firm in Akron, which became Kandel Transport. He retired in 1992. Jack expanded the reefer carrier to more than 40 trucks. Richard still makes occasional short hauls for Kandel.
Jack inherited his dad's high expectations and work ethic: "Flash has no place in a business owner's life. Dad taught me that it's important for me, my managers and dispatchers to get in a truck and do the real business of trucking once in a while."
He says having the same name as the legendary whiskey hasn't hurt business, either, especially at food conferences, where his name often jump-starts introductions: "It's really fun."
DOUG BEUTLER: Knee-high in a Kenworth
"I've been hooked on trucks since age 3, when I rode next to my dad while he delivered milk. As a milk hauler in the early 1970s, he worked every other day and ran our farm on his off days.
"As a preteen, I learned to drive my dad's 1978 Kenworth W900A sitting on his knee. I started out in the driver's seat shifting gears for him, and as we gained speed, the two of us switched seats so he could take the wheel.
"I was backing into the farmers' yards and driving on back roads by the time I was 14. At 15, I was driving most of the route, and got a job at a farm tractor dealership washing equipment at 16. Pretty soon, I was driving a truck for the dealership, hauling a lot of huge tractors and swathers with 16-foot headers.
"My dad always had Overdrive in our house, and I looked forward to seeing the Tractor of the Month and the Model of the Month even more so since I was a modeler. After I got married, the first magazine I subscribed to was Overdrive."
BRUCE WIESER: A mural's inspiration
One day in 1987, Bruce Wieser was fueling at an Ontario, Calif., truck stop when an Overdrive editor approached him and said, "I like your truck," Wieser recalls. Murals of a Native American chieftain and squaw intrigued then-Managing Editor John Cargile, and Wieser agreed to be interviewed at the old NASCAR speedway in Ontario.
"We sat down under a palm tree, and he did his story," says 64-year-old Wieser, now retired and a Greenville, N.C., resident. "I told him that I wanted to do something really nice with the truck."
Wieser had been an owner-operator for 15 years and already had driven more than 2 million accident-free miles when his rig, equipped with a 400 Big Cam IV Cummins, was Tractor of the Month. Overdrive said then: "To this Alta Loma, Calif., owner-operator, the American Indian symbolizes everything he believes in – struggle and freedom."
GORDON ALKIRE: 'Bitten by the trucking bug'
Owner-operator Gordon Alkire remembers the day he and his cousins raced an old Ford pickup near his uncle's farm in Hays, Kan.
"This was before I-70 was I-70," Alkire recalls. "We took out the old Ford pickup to where the speedometer showed 100 miles per hour, and we were on a gravel road. We were in tall cotton until we got home.
"We stood up to eat supper that night – all of us," he says. "Still, I was bitten by the trucking bug, I just didn't know it then."
Alkire's first trucking job was with Scrap Haulers, based in Riverdale, Ill. His first truck, a 1968 Peterbilt cabover, had a compression release for cold winter starts, an RTO 9513 transmission and 4:11 ratio rears.
"I had a love affair with that truck," he says. "When I sold the truck, it had 1,880,800 miles on it. I regret ever selling it."
He also remembers when he could request early wakeups at truck stops from "the lady behind the counter."
"Either she or someone from the truck stop knocked on my door and handed me a cup of coffee at the same time," he says. "We were knights of the road and were treated like it."