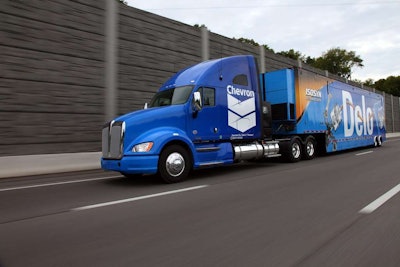 Chevron unveiled its new Delo truck Thursday, a tractor-trailer with an expandable 48-ft. trailer containing 19 electronic displays that will acquaint potential customers with the company's products and capabilities.
Although of standard, legal width when traveling down the highway, the trailer's sides slide out and expand to a width of 22-feet in order to accommodate the displays. The trend toward extended oil change intervals is showcased in one exhibit.
Another exhibit shows parts from a million-mile plus Caterpillar engine. A third shows engine parts from a Detroit Diesel DD15 engine run for 400,000 miles with 70,000-mile change intervals. All the parts are in perfect condition and show minimal wear.