Four kings of chrome crowned at culmination of inaugural Pride & Polish National Championship Series.
Perennial Pride & Polish competitor Bill Sandvik says his Best of Show victory in June at the Great West Truck Show's Pride & Polish in Las Vegas was something of a surprise. He shows alongside one of his small fleet's drivers, Isaac Aguilar, and mostly pulls for him.
The success in Vegas, though, won Sandvik an invitation to compete in the inaugural Custom Rigs Pride & Polish National Championship series in Dallas at the Great American Trucking show in August, where his 2005 Peterbilt 379 was named the first national champion in the Working Bobtail category. "And there I was," Sandvik says, "surprised again."
He says he hasn't done much to the truck "except keep it clean." After he bought the truck in 2009, he added 8-inch stacks, half fenders in the rear and painted the tanks and fenders burgundy. "It's basically my work truck," he says. "I didn't want to go too crazy."
He's been showing trucks in Pride & Polish since 1999. The truck Aguilar shows, a burgundy 1992 Peterbilt 379, won Best of Show in 2009.
In the Working Combo class, Jonathan Eilen's 2010 Peterbilt 389 and matching 2007 Mac trailer won the national championship prize. It also won Best of Show in the preliminary judging – marking back to back years the black and orange combo was named such.
Eilen bought the truck new in 2009 and immediately began stripping the interior and rebuilding the truck. The trailer belonged to his late brother Jake, and Eilen says he painted the truck black and orange to keep his brother's show-truck legacy going.
He rebuilt the truck in his dad's shop, with a little help from his dad, father-in-law and brother Pat. Eilen wanted the black and orange motif from his trailer to continue to the tractor and into the interior, and he touched up nearly every interior piece with hand-fabricated flame pieces and added matching orange flames to the truck's door panels, shifter and dash.
Pride & Polish newcomer Paul Voigt took home both Best of Show and National Championship trophies in the Limited Mileage Combo class. His 1999 Peterbilt 379 and matching 2004 Great Dane reefer received an overhaul at 4 State Trucks in the spring.
"We came down here and didn't really have high expectations of winning," he says. "I had no idea we could do it – then we won it. I'm ecstatic about it."
The truck, Disorderly Conduct, was one of five Voigt says his company had "sitting back at the fence" at St. Cloud, Minn.-based Night Train Trucking. He sold the other four and "thought we'd build a show truck out of this one. We figured we needed something new and fresh" to compete, he says.
Voigt says the truck's lights, black and blue paint scheme, flip bumper and clear fuel tank lenses are his favorite features.
In the Limited Mileage Bobtail category, Randy Stroup's 1986 Peterbilt 359 won Best of Show and the National Championship series. First in Class – the showpiece of Stroup's Lewisport, Ky.-based First Class Services fleet – was built in 2007 by collaborators from Stroup's shop, Ontario-based 12 Ga. Customs and Outlaw Customs in Henderson, Colo.
Audrie Lynn, a King Ranch-themed 2003 Peterbilt 379 shown by Bruce Smith of Kilgore, Texas, won Best of Show Working Bobtail.
The 2012 National Championship series began last month at the Truckin' for Kids show in Irwindale, Calif., and continues at the Charlotte Diesel Super Show in North Carolina, Oct. 7-8. The last event prior to the 2012 GATS finale will be in June at the Great West Truck Show in Las Vegas. Trucks that win Best of Show at next year's GATS do qualify for the 2012 National Championship judging.
Pride & Polish National Championship winners
WORKING BOBTAIL
Bill Sandvik,
2005 Peterbilt 379
WORKING COMBO
Jonathan Eilen,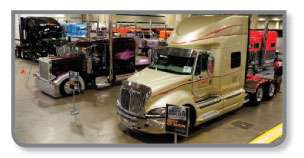 2010 Peterbilt 389
LIMITED MILEAGE BOBTAIL
Randy Stroup,
1986 Peterbilt 359
LIMITED MILEAGE COMBO
Paul Voigt,
1999 Peterbilt 379
CHAMPIONSHIP INTERVIEWS
To see interviews with the National Championship truck owners and other videos of Pride & Polish trucks, visit OverdriveOnline.com and find the video player on the homepage.
For the complete list of winners, visit CustomRigsMag.com/pride-polish.
Pride & Polish sponsors
• Freightliner
• Mobil Delvac
• Firestone
• Chevron
• Bad Ass Custom Truck Parts
• Hogebuilt
• Lincoln Chrome
• America's Independent Truckers Association
• Elizabeth Truck Center
• Traktr Chrome
• Performance Diesel Inc.
• Howes Lubricator
• SAI Super Alloy
• Swift
• Minimizer
• Truckin for Kids
• 75 Chrome Shop