OverdriveRetro, the site honoring Overdrive's 50th anniversary, will be redesigned in early October as its mission expands to trucking history, with stories and photos of old trucks and schedules of antique truck shows and related events.
Especially nice is a new collaboration with Old Time Trucks magazine, based in Richmond, Ind. Already on OverdriveRetro are a few truck photos and histories of the beautiful antiques sent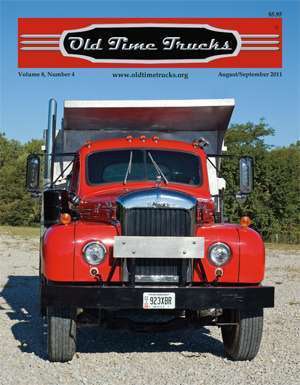 courtesy of Old Time Trucks.
"I'm so glad to see the old trucks getting more and more attention," says Old Time Trucks Editor Shirley Sponholtz. "It's kind of like watching Cinderella being swept off her feet at the ball. Those trucks were such workhorses for so long, it's nice to see them getting a little pampering."
Reader memoirs of their own trucking experiences will continue to be featured. The magazine's back pages already on the Retro site will remain as photos of trucks and girls are added.
The Best Dog Story Contest is a part of the site's expanding focus into truckers' histories. You can read about Bruce Wieser's longtime in-cab companion and Bonnie Weekley's take on border collies as the top feature story this week.
Read the rules for entering the dog story contest here, and send in those tales – even if they're a bit tall.