Religious faith and how truckers keep it close to them on the road were cover story topics for two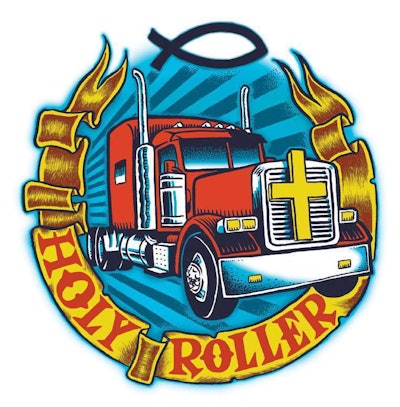 past Overdrives. Those covers are displayed on OverdriveRetro's photo gallery, underneath this week's first entry for the Best Dog Story contest.
The April 2006 story was illustrated with a tattoo drawn by Randall-Reilly associate Julie Arsenault, and the coordinated tattoo design, shown here, was hand drawn by Tony Brock, Overdrive's senior creative director. Jim Longton, husband of Overdrive's Linda Longton and senior vice president editorial and research, posed with his tattooed arm for the cover shot.
Collaboration — for a magazine's photo shoot or for the pursuit of faith — may be more important than is often given credit. One thing for sure, the truckers interviewed for the 2006 story, "Keeping the faith," said they appreciated all the support they had from others at truck stops in an effort to sustain inner peace.