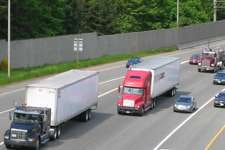 The American Trucking Associations' seasonally adjusted For-Hire Truck Tonnage Index dropped 0.2 percent in August from July following a 0.8 percent decline in July.
Compared with August 2010, tonnage was up 5.2 percent. In July, the tonnage index was 4.5 percent above a year earlier.
The not seasonally adjusted index, which represents the change in tonnage actually hauled by fleets before any seasonal adjustment, increased 10.9 percent in August above the previous month.
"Freight has been going sideways for much of this year, but it isn't falling significantly either, which suggests the U.S. economy just might skirt another recession," ATA Chief Economist Bob Costello said.
Costello noted carriers are handling as much freight as they can. "In part, this is due to less industry supply," he said. "The number of trucks operated by the truckload industry is still down about 12 percent from the height in late 2006, yet tonnage levels are about the same as in late 2006. Additionally, most carriers are finding it very difficult to hire new truck drivers, which mean they can't add too many trucks."