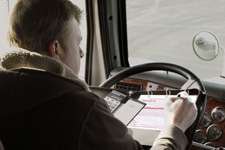 Truckers will have fewer hours per week to work under a new hours of service rule announced Dec. 22 by U.S. Transportation Secretary Ray LaHood.
The long-awaited revision from the Federal Motor Carrier Safety Administration requires two early morning four-hour rest periods with the 34-hour restart, and does not change the 11-hour driving limit during one shift.
Drivers and companies must comply with the final rule by July 1, 2013.
Drivers cannot drive after working eight hours without first taking a break of at least 30 minutes. Drivers can take the 30-minute break whenever they need rest during the eight-hour window.
The final rule retains the current 11-hour daily driving limit. FMCSA had previously favored a reduction to 10 hours. The agency says it will continue to analyze risk data associated with the 11 hours of driving time.
The rule requires truck drivers who maximize their weekly work hours to take at least two nights' rest – from 1 a.m. to 5 a.m. The proposed rule had called for two periods of midnight to 6 a.m.
This rest requirement is part of the rule's 34-hour restart provision that allows drivers to restart the clock on their work week by taking at least 34 consecutive hours off-duty. The final rule allows drivers to use the restart provision only once during a seven-day period.
Under the old rule, drivers could work 70 hours in five days, do the restart, and begin work again. Hours could average up to 82 hours within a seven-day period when figured over several weeks. The new HOS final rule, with the restart restricted to once every seven days, limits a driver's work week to an average of 70 hours.
The Owner-Operator Independent Drivers Association complained that a "one-size-fits-all" approach will not improve safety.
"Collectively, the changes in this rule will have a dramatic effect on the lives and livelihoods of small-business truckers. The changes are unnecessary and unwelcome and will result in no significant safety gains," said OOIDA Executive Vice President Todd Spencer.
"The hours-of-service regulations should instead be more flexible to allow drivers to sleep when tired and to work when rested and not penalize them for doing so," Spencer said. "It's the only way to reach significant gains in highway safety and reduce non-compliance."
The American Trucking Associations said in a release it is frustrated and disappointed the government issued an "unjustified final rule governing hours-of-service that will do nothing to improve highway safety, but will very likely increase the risk of truck-involved crashes."
"For the first time in the agency's history," said ATA President and CEO Bill Graves, "FMCSA has chosen to eschew a stream of positive safety data and cave in to a vocal anti-truck minority and issue a rule that will have no positive impact on safety."
Michael Campbell, executive vice president and CEO of the California Trucking Association said, "At a time when our roads are safer than ever before, it makes no sense to impose rules that will force more trucks onto the roads at peak drive times thus raising the risk of crashes and increasing congestion and emissions from all vehicles. California roads currently boast the lowest number of deaths in truck-involved crashes in the nation at less than one per million miles traveled."
Companies and drivers that commit egregious violations of the rule could face the maximum penalties for each offense. Trucking companies that allow drivers to exceed the 11-hour driving limit by three or more hours could be fined $11,000 per offense, and the drivers themselves could face civil penalties of up to $2,750 for each offense.
"This final rule is the culmination of the most extensive and transparent public outreach effort in our agency's history," said FMCSA Administrator Anne Ferro. "With robust input from all areas of the trucking community, coupled with the latest scientific research, we carefully crafted a rule acknowledging that when truckers are rested, alert and focused on safety, it makes our roadways safer."
The hours rule was changed in 2003 and 2005, making this the third alteration in eight years.
The rule is being sent to the Federal Register today and is currently available here.