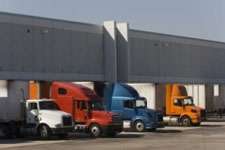 Freight carried by the for-hire transportation industry rose 0.1 percent in November from October and 4.8 percent from a year earlier, according to the U.S. Department of Transportation's Freight Transportation Services Index released Jan. 11.
DOT reported the Freight TSI declined slightly from the recent peak in September, but still remained higher than any other month since July 2008.
The Freight TSI measures the month-to-month changes in freight shipments in ton-miles, which are then combined into one index.