The Austin American-Statesman reminds us that the latest in the phenomenon of truck-driving reality-TV series debuts tonight, with back-to-back half-hour episodes of 'Shipping Wars' occupying the 9 p.m. (ET and PT) hour on A&E. The debate over whether the show will be a boon to the image of drivers in the public imagination has already begun, as evidenced by comments on my previous post on the subject, from December.
"I'll definitely be checking it out on Jan. 10," wrote frequent commenter and proprietor at the Dispatch Me Home social site Bruce "Bandit" Weiser, "but I'm afraid I already have some questionable feelings from what I've read so far. I see where the participants consist of only one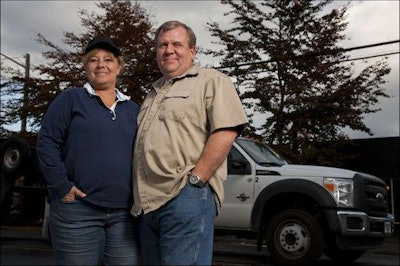 class 8 driver who has only one year of experience, a young lady who is a self-proclaimed rookie, and three more hotshotters, one with several months' experience," another with just a couple years' worth, and hotshotter Scott Bawcom (pictured), who trucks in part with his wife Suzanne, in business for four years.
"It seems to me," Bandit continued, "that if the show's producers were truly interested in shining a positive light on the industry that they could have found a more experienced cast of players. I guess we'll all just have to wait and see how it all plays out."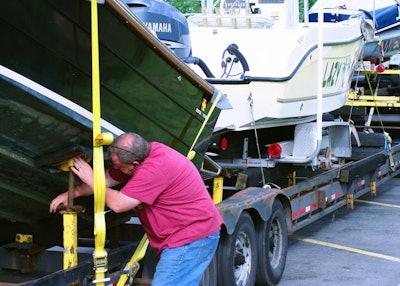 The wait is over — if you're near a television and can check it out tonight, let us know your thoughts. Bawcom, at least, is hoping it will give viewers a true picture of the reality of his own business, if not of trucking as a whole. As part of reporting in part in this month's Overdrive, he told me he thought the earnings-contest nature of the show, in which the haulers compete via uShip's online freight marketplace, made it at least unique among other trucking TV shows in its presentation of the realities of running a hauling business.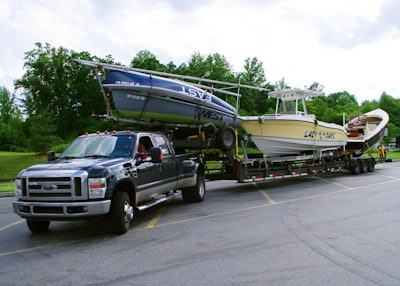 "We're all bidding on the same type of stuff," said Bawcom, "but everybody has different equipment. Some of the things I won't be able to move" as easily as others. "It's very competitive, the consideration of how much we're going to be able to offer to get the bid."
Ultimately, he says, "I think it will be good for our business… and will shed interesting light on the transport industry on the whole, how difficult it can be for drivers to do what they do."
Bawcom, with his wife, Suzanne, started his four-year-old hotshot business, Dream Time Transportation, after he got upset over the several weeks it took a hotshot hauler to deliver a 1940s Ford coupe street-rod he bought for his father in his final years. Bawcom decided, ultimately, he could do customer service better himself.
Powered by a crewcab 2011 Ford F450 (pictured, loaded with three boats) outfitted with a heavy-duty fifth wheel to pull a 53-foot Broward open-deck lowboy trailer, as well as a flatbed Ford F350, the former marine's success has seen him move upward of 400 total loads since the business' launch in early 2008, more than half of them secured via uShip.com. Bawcom trumpets his uShip customer feedback ratings, where he's received just two negative responses on 200-plus loads booked there.
"It's a great menu to get a customer base from," he told me. All of his current direct customers he originally met via the site.
Here's hoping his record serves him — and the rest of us — well in the show.