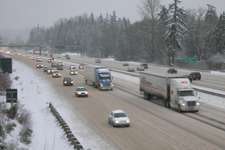 A strong winter storm continued Thursday, Jan. 19, in the Pacific Northwest, with the Washington governor declaring a statewide emergency.
Westbound I-90 between milepost 85 near Cle Elum and milepost 106 near Ellensburg was closed mid-day from an accident involving several commercial vehicles, the Washington State Patrol said.
Several accidents have been reported on southbound I-5 south of Seattle, the WSP said.
On Snoqualmie Pass on I-90 east of Seattle, westbound lanes are closed. On eastbound I-90 chains are required on trucks and oversize vehicles are prohibited, the WSP said. Compact snow and ice are on the roadway. Chains are required on trucks traveling on U.S. 2 at Stevens Pass northeast of Seattle.
Temperatures in Western Washington are in the upper 20s and snow continued to fall on Thursday. Snowfall amounts have ranged from 4 inches to 14 inches.