Mechanical Mind
Donnie Parsons gives the same attention to his business and customers that he does to keeping his antique restoration in tip-top shape for the road.
By James Jaillet
Dreama Parsons first saw the 1971 Peterbilt 359 parked in a field not far from her Knoxville, Tenn., home in the mid-1990s. She and her husband, Donnie, a seasoned owner-operator, had stopped to look at the old rig a few times, too, but when it showed up in her driveway, she fretted.
"I thought 'Oh, no,' on this project," she says of her worry that Donnie wouldn't be able to do what he wanted with it – turn it into a full-time working rig for his nationwide flatbed operation with Mason and Dixon Lines.
But when he finished the two-year project in 1998 (while still running his 1982 Peterbilt 359 he bought brand new), the antique beauty turned into a testament of his mechanical abilities.
"He could visualize it," Dreama says. "I couldn't. But he's always done things like that. He's just got a talent for it."
Donnie's since made a hobby out of tinkering with the old truck, many times out of necessity more than anything else. He has run the truck as he intended for nearly 15 years.
"I work on it when I get home and keep everything working and up to date," he says. "I've rebuilt the motor twice and just fool with it all the time to keep it up."
In 1982, he bought his first truck, the one he owned and used until buying his '71 359, after cutting his teeth hauling coal for a mining company for five years in Kentucky near where he grew up.
Parsons leased to Mason and Dixon Lines 25 years ago. He hauls steel coils and aluminum, and most of his runs are to California and back, he says. He and Dreama team up on accounting, and he has an accountant help him once a year.
Parsons picked up his mechanical prowess in the Army, where he worked as a helicopter mechanic stationed in Fort Benning, Ga., in the late 1960s. Doing nearly all maintenance and repair work himself has contributed in large part to his business's success, he says.
He grossed roughly $110,000 in 2010 and says he takes home leftovers, about $30,000 a year, after all business expenses. He also topped the 2 million safe-mile mark last year.
"I do my own work," he says. "I don't take it to the shop, and I think that's where my success has been. That and just trying to work well with people and making shippers and receivers happy."
Dreama, whom Donnie met at Mason and Dixon in 1993 when she worked as a dispatcher, says her husband's time and care put into the rebuild are the same traits he's used to build his one-truck operation.
"It's a profession for him, and he acts the part," she says. "He's been successful because he takes it seriously and makes sure when he accepts a load that he does exactly what he says he's going to do."
Wally Schnellenburger, a load agent for Mason and Dixon, has worked with Parsons since 1986, and echoes that his professionalism and customer service are part of his success. "We've never had any problems at all with Donnie on delivery or timing or anything else," Schnellenburger says. "He's one of the best."
Rags to riches: the restoration of Parsons' 359
The narrow-window style of the 1971 Peterbilt 359 is what originally caught Donnie Parson's eye in 1996. The truck sat in a nearby neighbor's yard, and Parsons says he was ready to pounce as soon as its owner put it up for sale.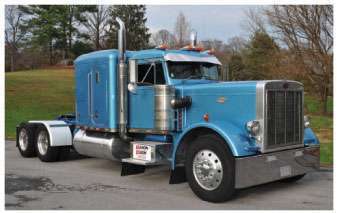 "It had 1.5 million [miles] on it. It wasn't totaled out or anything — it just needed updating and painting and restored," Parsons said.
So he tore the truck down to the frame, sandblasted it and starting building from there. He pulled a 1985 engine out of a truck at a local junkyard to rebuild and fit into his.
He also added a newer transmission, updated the truck's lighting, added cruise control and electric windows and put it back on the road in 1998.
"I've had some issues with it, but I've never had to get a tow truck for it," he says. "I always make it back home."
He's put 700,000 miles on it in the 14 years he's driven it.
Water retreats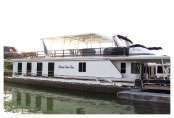 Five years ago, Donnie Parsons and his wife Dreama spec'd and ordered an 80-foot houseboat that's since been parked on Cherokee Lake in northeast Tennessee, about an hour from their home.
Parsons says the couple's able to visit the lake at least twice a month in the summer and usually once or twice a month other times of year. They also celebrate holidays and other events there.
DONNIE PARSONS
1949: Born May 22
1967-1969: Worked as helicopter mechanic in U.S. Army
1982: Bought first truck, a 1982 Peterbilt 359
1987: Leased to Mason and Dixon Lines
1996: Married Dreama Kessel
Donnie Parsons is a finalist for the 2012 Owner-Operator of the Year award, which is sponsored by Overdrive and the Truckload Carriers Association. The winner will be announced at TCA's annual convention, March 3-6, 2013, in Las Vegas.