Power team
Designers integrate ProStar+ with MaxxForce 15-liter for strong, quiet ride.
I'm heading south from Dallas on I-15 into Texas hill country. It's not the Rockies, but it's the best chance I'll have to put this 2012 International ProStar+ through its paces and find out if its Big Bore 15-liter will deliver the goods. So far, this new MaxxForce 15 diesel is powering my 77,000-pound gross with relative ease.
A lot of motorists check out my gleaming orange-and-charcoal ProStar+. Truckers with a more practiced eye know it's an aerodynamically styled truck, paying homage to the great International conventionals but without the sharp edges and flat surfaces.
"Our drivers like the ride and how quiet the truck is," says Aaron Tennant, president and CEO of Tennant Truck Lines of Orion, Ill. His company runs ProStar+ tractors as its standard spec vehicle. "They also give it very high marks for the interior styling, comfort and room. I like them for their fuel economy. We've tested them against other trucks and found that the ProStar+ delivers about three-tenths of a mile per gallon better fuel economy than other models."
During the pretrip, a quick unfastening of the fender latches and a gentle tug on the handgrip easily opens the hood to reveal the 15-liter MaxxForce. Forged in the company's Huntsville, Ala., plant, the engine combines the lower components, such as the block and camshaft, from Caterpillar's C-Series of diesel engines with International's high-pressure fuel injection system and sophisticated electronic engine control systems.
This is an exhaust gas recirculation-only engine – meaning there is no diesel exhaust fluid tank or exhaust aftertreatment system. International uses "heavy EGR" to burn off NOx particulate matter by recirculating exhaust into the combustion chamber.
You don't just climb into this truck. It feels more like putting on a pair of jeans. And everything – from the instrumentation, switch placement, views over the hood and to the sides, to the responsive way the truck handles – reinforces that easy feeling.
This model features International's deluxe trim package, including plush leather seats. The warm tones of wood panels and trim accent the well-lighted switches on the instrument panel. It's highlighted by the middle console featuring International's top-of-the-line stereo and GPS navigation systems, which are quickly mastered.
I was expecting a lot more noise in the cab from the big 15-liter, but an integrated, sound-dampening system isolates vibration from the vehicle frame as well as wind, engine and highway noise. It doesn't hurt that the MaxxForce 15 is an inherently quiet engine, thanks to its compacted graphite iron design. CGI makes the engine lighter, stronger and quieter than engines with conventional block cast iron.
This MaxxForce 15, mated to an Eaton 13-speed manual gearbox, quickly accelerates the rig. But once at cruise speeds, the MaxxForce settles in around 1,200 rpm and stays there. Even the occasional long climb on mild grades didn't rile it up. Downshifting becomes optional. The MaxxForce 15 might lose 4 or 5 mph at first, but by the time you're halfway you'll be back at target speed.
This design is truly integrated, and the solid feel behind the wheel reflects it. A 15-liter diesel isn't for everybody, but if your application demands one, this engine fits the bill. It's got plenty of power, but cruises as quiet as a kitten when brute force isn't required.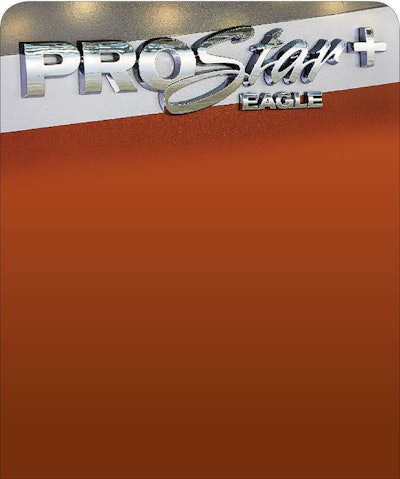 2012 ProStar+ with MaxxForce 15
ENGINE: MaxxForce 15, 450 horsepower, 1,550/1,750 lb.-ft. torque at 1,000 rpm
ENGINE COMPRESSION BRAKE: MaxxForce for MaxxForce 15 engines
TRANSMISSION: Fuller RTLO-18913A 13-speed manual with double overdrive and internal lube oil pump
CLUTCH: Eaton Fuller Solo Advantage self-adjusting, two-plate, cast angle spring; ceramic, 15.5-inch diameter, soft rate damper, 1,860 lb.-ft. torque capacity with hydraulic actuation with air assist
DRIVELINE: Dana Spicer SPL250XL plus SPL170XL inter-axle shaft
BRAKES: Bendix Antilock Brake System, full vehicle wheel control system (four-channel) with automatic traction control
FRONT AXLE: Meritor MFS-13-143A wide track, I-beam type, 13,200-pound capacity
REAR AXLE: Meritor MT-40-14X-3CFR single reduction, 40,000-pound capacity, Amboid gearing in rear drive axle