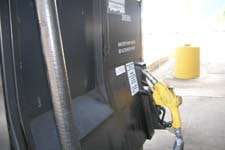 The national average diesel price surged 8.7 cents to $3.943 in the latest week, according to figures from the U.S. Department of Energy's Energy Information.
It was the fifth increase in the last six weeks, during which the diesel price has risen 16 cents. The latest price is the highest since Nov. 28, when it was $3.964.
Prices in all regions jumped. The biggest increases were on the West Coast without California, up 8.9 cents to $4.017; Gulf Coast, up 8.5 cents to $3.86; and the Lower Atlantic area, up 8.4 cents to 43.93. All of the East Coast was 8 cents higher to $4.028. California remained the most expensive market at $4.209 a gallon after rising 8.1 cents.
The record diesel price was $4.764 in July 2008.
For diesel price information, click here.