Since I wrote briefly last Friday about this TV show, one in a long line of trucking shows to have debuted over the last year, I've garnered a little more info. Not least among it is the fact that Overdrive's own new blogging owner-operator, Landstar expediter Phil Madsen, was himself approached last year by the show's producers to compete. His reponse? If you missed his "The world's toughest trucker I am not" post, check it out on his Learning Something New Every Day blog here.
The World's Toughest Trucker competition debuts Monday night at 10 p.m. Eastern and Pacific on the Discovery Channel. Here's the series preview, embedded from YouTube, if you haven't seen it as yet.
[youtube 428HUShItgo nolink]
And this one's an international affair not only in terms of the locales the participants visit but among the drivers' nationalities as well. In addition to a Canadian and three U.S. drivers, also competing are two haulers from the British Isles, one from Australia and a naturalized U.S. citizen from Sri Lanka who's been living the trucking dream as an owner-operator on U.S. highways for the last two decades. Here's a brief snapshot of that final hauler's history. If you catch the show on Monday, let me know what you think: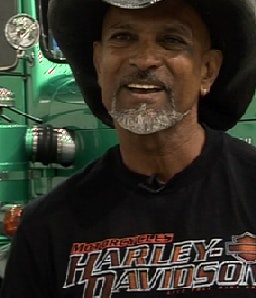 NAME: Zola Rajapakse
AGE: 56 years old
PLACE OF RESIDENCE: Arizona
YEARS DRIVING: 20
Zola got his CDL when he moved to America 20 years ago; trucking is his dream profession.
Before the recession, he was a very successful owner-operator with about 12 trucks running out of Florida. He now runs 2, which he operates himself, out of Arizona.
Zola loves being on the road; from seeing the varied scenery of America to meeting new people. He will talk to anyone, anywhere.
He is extremely passionate about driving and the industry – nothing will break his constant smile.
Zola has only driven trucks in America and Canada but has driven cars in a lot of different countries, including Saudi Arabia, the UK and Australia, so he is not worried about the challenges he may face.
He is a fitness freak and maintains it helps him be the best at trucking, so he always makes time to work out while on the road, at least 4 times a week.
Zola is a Buddhist and believes in treating everyone and everything with respect. However, he has no concerns that he can't win and won't do what it takes to win, but with respect.
While growing up in Sri Lanka, he was hand-picked on the streets to be a bodyguard for the Prince of Saudi Arabia. This led to years of living the high life and travelling everywhere first class.
He is well-traveled, and at least every year or two he will visit family in the UK and Sri Lanka.
Zola is divorced, with several grown-up children.