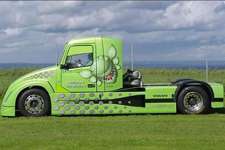 Volvo Trucks is taking hybrid technology to the next level in high-speed/high-performance racing.
Volvo is showing the modified Mean Green hybrid VN race truck at a truck show in Louisville, Ky. The truck is a combination test bed/demonstration truck that is intended to show that in addition to improved fuel economy and reduction in greenhouse gas exhaust emissions, hybrid technology offers greater vehicle performance.
Mean Green will attempt to top 260 km/hour (165 mph) April 27 at Wendover Airfield in Utah to best its own world speed record. The Volvo-built hybrid holds records in the standing 500 meter (one-third mile), standing kilometer (two-thirds mile) and flying kilometer – international speed standards.
"Mean Green is a prime example of Volvo's technical capabilities and our continued focus on emerging technologies. Our engineers developed the world's fastest hybrid truck utilizing the same Volvo hybrid drive system powering hundreds of Volvo buses throughout the world, including London's double-decker buses," said Ron Huibers, president, Volvo Trucks North American Sales & Marketing.
In building the truck, Volvo's experts adapted Volvo's hybrid driveline to the chassis requirements of a world-class truck built for speed. Engineers then outfitted Mean Green with a highly tuned Volvo D16 engine and a modified version of Volvo's automated I-Shift gearbox, which interacts with the hybrid's electric motor.
"The result is a lightning-speed boost from start-off without any of the customary diesel-engine delay," said Boije Ovebrink, Mean Green's owner and driver. "It's like a champagne cork, but without the sound effects. For the first couple of seconds, the truck just makes a slight whistle until the diesel engine, which runs on renewable liquid rosin diesel, starts delivering with explosive force."
The truck pumps out a massive 2,100 horsepower and nearly 5,000 lb.-ft. torque – of which, 200 horsepower and 885 lb.-ft. of torque come from the electric motor.
Aerodynamics also play a vital role in achieving top speed, so Volvo designers selected a VN cab and sculpted the optimal aerodynamic shape for the truck.
Mean Green features modified versions of the following Volvo production components:
Hybrid motor
Hybrid battery
D16 diesel engine
I-Shift automated manual transmission
VN cab and frame
Rear axle with 1.85:1 ratio