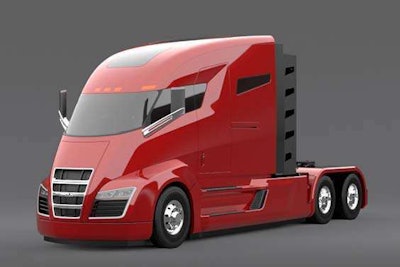 An upstart company is promising the coming-launch of a new Class 8 truck that company founder Trevor Milton says will "even the playing field" between large fleets and owner operators seeking to make a living.
"I love owner operators," he says. "I'm a champion of them. It's been my goal to help them."
How he plans to help them is by building Nikola One – a 2,000 horsepower electric semi-truck with a range, he claims, of roughly 1,200 miles.
Milton, who originally founded Nikola Motor Company (NMC) to design and manufacture electric vehicles, energy storage systems and electric vehicle drivetrain components, says Nikola One is capable of pulling a total gross weight of 80,000 pounds.
The majority of the truck's components are being developed by NMC, but the company turned to Meritor for help in co-designing the industry's first-ever independent suspension.
"By working together with some of the top engineering firms in America, we were able to design vehicles that have previously been thought impossible to design," Milton says. "We want to even the playing field and income inequalities seen between owner operators and fleets for the first time in recent trucking history. This is just the beginning of what's ahead for America, our company and the electric vehicle market."
Milton says the truck's operational cost per mile is somewhere between 20-30 cents per-mile, roughly half of most diesel-powered semis, but its purchase price is expected to range from $350,000 to $415,000, depending on options. Reservations for some of the first units, ongoing today, will set you back a fully-refundable $1,500 and the company says the trucks will be delivered in the order in which they are received. The first 5,000 orders will be enrolled in a free fuel program, in which drivers will "receive an allowance of 100,000 gallons of compressed natural gas (CNG) to be utilized at any NMC fueling station by the specific truck purchased."
Nikola One's fully electric 335 horsepower motor features a dual gear reduction at every wheel (6×6). Combined, the truck outputs more than 2,000 horsepower and 3,700-plus ft. lbs. of torque before gear reduction, and nearly 86,000 ft. lbs. of torque after gear reduction.
"Torque is instant with an electric motor," Milton says. "There is a short window of RPM that you can get good torque from a diesel engine. The electric motor is basically providing 100 percent torque all the time."
The first-of-its-kind independent suspension system, based on Meritor's all-wheel drive ProTec High Mobility Independent Suspension, reduces vibration and boosts ride quality and a unique steering geometry improves tracking, centering feel and intuitive feedback.
By removing the diesel engine and transmission, and manufacturing the cab out of lighter carbon fiber panels, the truck builder says it was able to install many of Nikola One's heaviest components at or below the frame rail, lowering the center of gravity and improving safety.
"Nikola One actually weighs about 2,000 pounds less than a regular diesel (21,000 pounds)," he says, "because we removed engine, the transmission, the drivetrain and all the liquids that go in those. All the batteries actually weigh less than the diesel engine does alone."
Additional benefits of removing the diesel engine, Milton says, include the reduction in greenhouse gas emissions, a larger and more aerodynamic cab and a quieter and more comfortable ride.
Without a transmission, the only thing needed to make the Nikola One go or stop is the electric pedal and brake pedal.
"No shifting whatsoever," Milton says, adding Nikola One's simplified operation will open up the line haul market to a new group of drivers.
Nikola One's electric motors are powered by a liquid cooled lithium-ion battery pack, which is charged by an onboard turbine. The fuel-agnostic turbine automatically charges the batteries when needed, eliminating the need to plug in the unit. The turbine, Milton says, burns about 25 gallons of fuel per hour and, when coupled with the batteries, gives the truck a range of about 1,200 miles between stops and fill ups.
Going downhill, the Nikola One's six electric motors absorb the braking energy normally lost and deliver it back to the batteries.
Because there is an electric motor at each wheel, the Nikola One's software provides dynamic control to each wheel. Torque vectoring controls the speed and torque of each of the six wheels independent of each other at any given moment.
To attract owner operators, Milton went all-in on cabin comfort. NMC says its cab is 30 percent larger than its more traditional counterparts, and its aerodynamics reduces the drag coefficient by nearly 5 percent over most trucks currently on the market. The Nikola One's cab features a sliding mid-entry door, a full-size fridge and freezer, electric climate controlled cabin, 15-inch touch screen infotainment display, 10-inch instrument cluster display, 4G LTE internet and Wi-Fi, over the air software updates, panoramic windshield, sunroof, two full size beds, microwave and 42-inch television.
Each of the features will be powered by the truck's 320 kWh battery pack, alleviating the need to idle or run a separate generator. NMC claims the driver could theoretically stay in the cab with all the amenities on for almost a week without draining the batteries enough to initiate the turbine charge.
The Nikola One's proprietary hardware and software also features platooning capabilities. Once testing is complete and government regulations allow, a single Nikola One driver will have the ability to virtually hitch and lead up to five driverless Nikola One trucks through NMC's wireless vehicle network and self-driving technology.
"[The lead driver will] send a command and within 30 milliseconds it goes straight to the motor," Milton adds of the response time of the platoon. "If for whatever reason the trucks experience a communication failure, the trucks would pull over as soon as it was safe to do so."
Virtual Hitch/Fleet Convoy technology is part of the truck's hardware, and Milton says every Nikola One will come with it built in.
Milton says he expects truck deliveries to begin in the next 24 to 36 months. He wouldn't disclose the number of trucks on order, only calling it "substantial."
"With the first batch [of deliveries] we will work with owner-operators on testing," he says.
The first truck has been built and it is currently being tested internally. It will then undergo regular field trials to validate the technologies used.
"The truck is a lot more simple than a diesel … take a Tesla car, for example," Milton says. "If you tear apart a Tesla, there's really not that much to it. Because it's a lot more simple, the software needs to be a lot more robust."