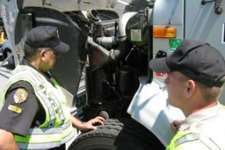 Federal Motor Carrier Safety Administration roadside inspector Carlos Saucedo named key problem areas for drivers, fleets and truck owners March 22 in Louisville, Ky.
Saucedo, a former driver, said the top five driver violations are:
Logbook issues – either not current or signed or otherwise incomplete
Driver's record of duty status isn't current
Driver isn't in possession of a medical certificate
Driver doesn't speak English
Fleet requires or permits driver to drive after 14 hours on duty
He said the top five out-of-service violations include the carrier requires or allows driver to drive after 14 hours on duty, false reports of driver record of duty status, no record of duty status, driver fails to retain logs for previous seven days and carriers requiring or allowing drivers to drive more than 11 hours.
Saucedo also identified top five vehicle violations:
No or defective lighting devices or reflective material, as required
Required lamps are inoperative
Tire tread depth of less than 2/32-inch
Inspection or repair and maintenance of parts and accessories
Oil or grease leaks
The top vehicle out-of-service violations are:
Inoperative turn signals
Flat tire or exposed fabric
Inspection or repair and maintenance of parts and accessories
Inadequate brake tubing and hoses
Stop lamp violations
Saucedo gave 10 pointers for passing roadside inspections, including being prepared; having a valid CDL; keeping current logs; driving within allowed hours of service; wearing a seatbelt; knowing the critical vehicle inspection items; having a professional attitude; keeping in mind BLT – brakes, lighting and tires; knowing the three P's of hauling hazmat – papers, placards and packaging; and asking questions.
Saucedo said the critical vehicle inspection items are:
Fuel system
Brakes
Coupling devices (fifth wheel)
Lighting devices
Steer mechanism
Suspension
Frame and body components
Tires and wheels
Windshield wipers
Load securement
Rear view mirrors
Horn
Exhaust
Emergency equipment
After an inspection, Saucedo said, drivers or fleets should repair out-of-service defects before operating the truck again. If they can't, get the truck towed, satisfy any driver out-of-service requirements before driving again, repair non-out-of-service vehicle defects and turn in the inspection report within 15 days.