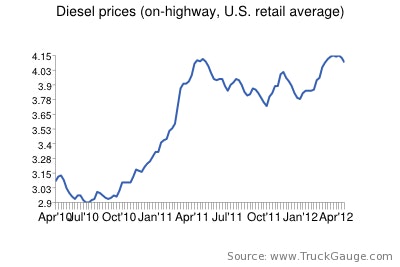 The national average retail price of on-highway diesel was lower during the week ended April 23 than it was during the same week the year before – the first time that's happened since November 2009, according to data from the U.S. Department of Energy's Energy Information Administration. The average diesel price dropped 4.2 cents to $4.085 a gallon.
That's 1.3 cents below the same week in 2011. Diesel prices have now declined for two straight weeks for the first time since Jan. 2. Average prices fell in all regions except in New England, where prices were flat on average. The largest decrease was 5.7 cents a gallon on the West Coast (excluding California).
The smallest decrease was 3.4 cents in California, where diesel remain, on average, the nation's most expensive at , where prices remain the nation's lowest on average at $4.021 a gallon. The smallest decrease was two-tenths of a cent in the Central Atlantic region. The nation's most expensive diesel on average remains in California at $4.418 a gallon.
Complete diesel price information is available on EIA's Website.