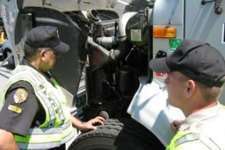 The Commercial Vehicle Safety Alliance will hold Roadcheck, its annual vehicle inspection program, June 5-7.
During a 72-hour period, an estimated 10,000 CVSA-certified federal, state and local enforcement inspectors conduct truck and bus inspections at 1,500 North America locations.
CVSA is the largest targeted commercial vehicle roadside inspection program in the world, and drivers are being urged to have all documentation up to date, loads properly secured and logbooks complete.