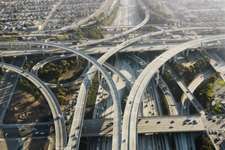 The U.S. Government Accountability Office again has recommended the Federal Highway Administration restructure federal surface transportation programs and address risks posed by partnerships with state transportation offices.
The independent agency, often called the watchdog for Congress, released the report May 29 in response to language in a long-term transportation funding bill approved by the Senate in March.
If the Senate legislation becomes law, it would mandate the Federal Highway Administration establish a more performance-based highway program, demanding significant change in FHWA's oversight. The agency and state transportation offices would need to develop measurable goals to improve the nation's highway system and the FHWA would be required take action when these performance measures are not met on federally-funded highway and bridges.
Agency officials would likely use these state partners to implement a performance-based system, as the administration's state division offices do have some positive oversight practices of state DOTs. However, these partnerships pose risks that can result in poor funding and the loss of independence necessary for effective oversight, the GAO stated.
The federal Highway Trust Fund provides infrastructure funding to states through taxes on motor fuels, tires and trucks.
The GAO has expressed previous concern before about FHWA's partnerships, and, in 2008, it recommended Congress consider refocusing surface transportation programs. That report cited as an example of weakness the agency's partnership with Boston's Central Artery/Tunnel, nicknamed the "Big Dig" and considered the largest public works project in U.S. history.
The GAO had noted significant cost hikes and weakness in FHWA's efforts to hold its Massachusetts DOT partners accountable. A 2000 project FHWA Task Force Report concluded that "officials failed to adequately perform their duties because they acted more as partners with Big Dig officials than overseers."
The agency additionally recommended Congress restructure federal surface transportation programs, as areas may exist where national interests are less evident and opportunities exist to narrow FHWA responsibilities.