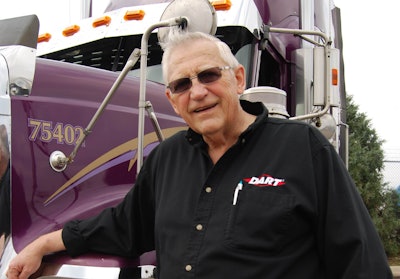 With 50 years of trucking in the side-view mirror, Larry Severson gets his due as Overdrive/TCA 2011 Owner-Operator of the Year.
"I had the most fun in the 1990s," says owner-operator Larry Severson, looking back over his five decades spent around the trucking industry. The Vadnais Heights, Minn.-based operator spent most of those go-go years in a series of Mack tractors, two R models and two CHs. Then he climbed into a 1994 Peterbilt 377 in 1999 and joined one of Eagan, Minn.-based Dart Transit's dedicated fleets the next year, where he would embark on his most financially successful decade.
2011 also was good for the bottom line – $50,000 net income on 108,000 miles. Severson put the icing on the cake for that year when this March he was named 2011 Owner-Operator of the Year. He is the first winner of the award since two contests were merged: Overdrive's Trucker of the Year and the Truckload Carriers Association's Owner-Operator of the Year.
In addition to the prize of the Cummins-powered 2011 Dodge Ram 2500 he received, the award is fitting acknowledgment for a business owner who's made safety and customer service an integral piece of his success.
Severson also bagged the Minnesota Trucking Association's top prize for drivers in 2004. He made it to the finalist round for the TCA award in 2009, after being nominated by Dart Transit, to whom he's been leased for more than 30 years. This year, having accumulated more than 5 million miles without a preventable accident, he took the grand prize.
Severson was known on the CB in the old days as "Sugarfoot." He garnered the "Legend" moniker after years of showing new Dart owner-operators the ropes around company operations — that's the official tale, at least. Severson, a storyteller at heart, says the moniker really stuck after years regaling employees at Silgan Container, the dedicated account he hauls for today, with tales from the days of yore.
Still running dedicated, Severson enjoys both the stability that comes with frequent home time and big earning potential. He runs mostly short haul, moving steel cans and tops made by Silgan Container in Savage, Minn., around the state and occasionally into Wisconsin and Iowa. His current truck, a 2001 International 9900i, grosses a combination of $23.30 hourly, moving or not, and 45 cents per mile, as do those of other Dart operators on certain accounts. In addition to those compensation elements, another bonus is the fuel surcharge, Severson says, which "we get whether loaded or deadheading."
Severson's success is due in no small part to the equipment that powers the owner-operator business. Over the years, true to his

style, all of his trucks he bought used and cared for with no shortage of sweat equity.
His maintenance prowess originated with his fascination with his father's local milk-tank truck routes serving dairy farms around Turtle Lake, Wis., where Severson spent his early years.
When he was about 10, he says, the large family (ultimately including eight children) moved to St. Paul, Minn., where Severson's father, Elmer, got a job as a millwright.
Often, he says, being the oldest son in the family, Severson went along with his father when he was called in after hours to do an emergency repair on the factory's paper rolls or forklifts.
"I'd just go in and watch them work," Severson says. "If he was laying on the ground or something and needed a tool, I'd be there handing tools to him."
He worked restaurant jobs during high school, graduated in 1961, then washed trailers for Indian Head Truck Lines. "If you worked for them for 60 days you had to join the union, so they'd work you for 59 days," Severson says. "Back then, you could leave one job and knock on the door somewhere and get another, so I found work from noon to six at a gas station immediately after."
One 1963 day, just after starting his shift at Rud's DX gas station in St. Paul he met Stanley Pittelkow, owner of the Northwest Transfer and Warehousing straight-truck fleet. Pittelkow brought in one of his big Chevrolet fleet trucks for service, Severson says. "He said, 'If you need the truck moved, my son's across the street at the pool hall. Call and he'll come in and move it.'"
That wouldn't be necessary, Severson told him. "I've driven trucks like this."
He didn't tell Pittelkow that he'd only done so moving trailers at the Indian Head yard. "He offered me a job driving right there," Severson says, and he worked for Northwest as a company driver for upward of a decade, becoming a trusted hand not only behind the wheel but in the shop on slow freight days.
Severson led Pittelkow to buy the fleet's first tandem tractor, an International, which Severson then began driving. Thus began Severson's combination-unit career with somewhat longer, regional-haul freight.
That gave him the itch to test the waters of on-highway independence further. Four years after marrying his wife now of 40-plus years, Linda, in 1970, Severson bought his first truck – a 1972 International CO4070B TranStar – from an owner-operator already leased to the former International Transport of Rochester, Minn., where Severson became a leased owner-operator.
His first truly long-haul load was a disaster, as he puts it. With the closing process underway on a house he was buying in Stacy, Minn., he loaded machinery from a recently closed brewery in Savage, Minn., bound for Tampa, Fla. "By the time I got to Evansville, Ind., I'd broken down four times," blowing an air bag on the carrier-owned flatbed each time," he says. "Finally at Evansville I pulled into a Fruehauf dealer and they fixed it."
Later on that same haul, stuck in Regina, Saskatchewan, on a Friday and looking at the closing in Stacy Monday, IT reps were downright "nasty" about his need to get home, which they'd known about for weeks, Severson says. Finally, "We closed on the house Monday morning and I left IT," Severson says.
His stepfather, Mike Franzmeier, had a truck leased to then St. Paul-headquartered Dart Transit Company and convinced Severson to give them a try. He and his 1972 International found their home there.
"It was an all-cabover company at the time," Severson says, made up primarily of owner-operators. "When I first started there, I'd run St. Paul to Green Bay or Milwaukee or Chicago, every once in a while down to Indianapolis or to Michigan and back." The routes conveniently brought him many nights to Linda and, soon enough, their daughters Meghan (born in 1979) and Miranda (1986).
Dan Oren, current Dart vice president and grandson of the company's founder, Earl Oren, remembers riding with Severson during high school summers when they'd unload packaged chocolate syrup. For Oren, that meant riding on the bench seat in Severson's second truck, a 1978 Ford LNT9000 conventional powered by a Detroit 6V92.
Dart President David Oren, also a third-generation Oren family member in the business, singles out Severson for the education he received doing night city dispatch in his early days with the company. Back then, Severson "knew the city, the equipment, the customers and everything better" than almost anyone there, says Oren.
Today, "getting the drivers involved in the decision-making" is a priority for Oren to engineer the end result of "better decisions," he adds, noting Severson's recent work streamlining service on the Silgan Container account. Severson eliminated a lot of back and forth between Dart dispatch and Silgan by communicating directly with the manufacturer to run dunnage from a company warehouse in Shakopee, Minn., one of his frequent destinations, back to the plant in Savage.
Though his income has varied in recent years as he's slowed down in anticipation of retirement, 69-year-old Severson say there's no doubt the last decade was his best financially.
Continued success as an owner-operator, combined with the sale of a vacation home he and Linda built piecemeal years ago, should set him up for many a Canadian walleye fishing venture, a favorite activity.
Given recent investments, though, he won't be retiring in the immediate future. After coolant kept leaking into the oil in his 2001 International's Caterpillar C12, just this year he replaced the 12-liter with a 2000-model C15.
"A lot of the plumbing is different now," he says. "The air compressor is now on the opposite side of the motor – a lot of the hoses had to be cut" and reconnected in different configurations. Severson's happy with the change, and he's hoping for several more years of operation.
"The way I look at it is – my health is pretty good," he says. "I've got to drop some weight, but I've got my hair and my teeth and, as long as I feel good, I'm going to keep going."