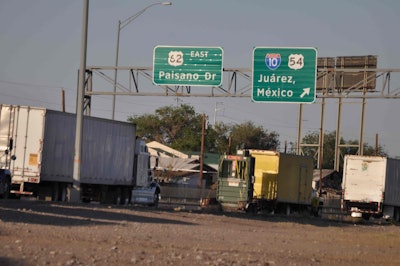 A Demco Express spokesman said he has little information regarding a driver recently apprehended by Mexican authorities while hauling ammunition.
Dennis Mekenye said he spoke to driver Jabin Akeem Bogan on the phone, who was en route to his third stop in El Paso, Texas, about 1:30 p.m. April 16. Bogan has driven for the Texas-based carrier for three years, Mckenye said.
After that stop, he was scheduled to deliver his load of 268,000 rounds of ammunition to Phoenix. However, Bogan missed his exit and found himself in a lane designated to Juarez, Chihuahua, he said.
The 27-year-old Dallas resident said a law enforcement officer told him he could drive straight on the Bridge of the Americas, but then do a U-turn and return to El Paso. Bogan did not provide additional information on the officer, Mekenye said.
Mexican officials conducted a truck and cargo inspection, the driver told Mekenye. He spoke to Bogan again about 7:30 p.m. that day, when the driver told him Mexican officials were taking him about 10 minutes away and that call ended abruptly.
American embassy officials who visited Bogan after his initial imprisonment told Mekenye that Bogan appeared OK. Mekenye said he did not have further information, including when the Demco truck and trailer would be returned.
American embassy officials did not immediately reply to a request for information regarding the incident. However, the Associated Press reported that the U.S. Embassy released an April 26 statement that Bogan had been charged with smuggling military ammunition, which carries a maximum 35-year sentence.