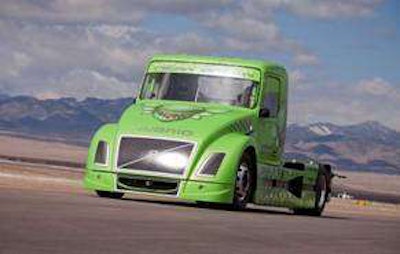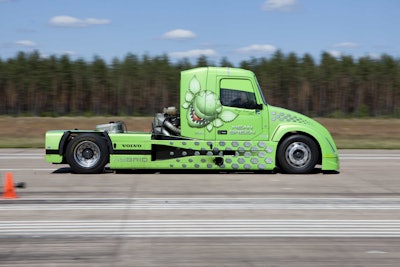 Volvo's new hybrid Mean Green truck set world speed records April 27 with 150 mph speeds at Utah's Wendover Airfield, eclipsing its previous marks in the standing kilometer (the truck is at a standstill before running the course) and flying kilometer (the truck is in motion before running the course).
Mean Green's world record speeds were, for the flying kilometer, 236.577 km/h (147.002 mph), and for the standing kilometer, 153.252 km/h (95.245 mph).
The speed record attempts were sanctioned by the United States Auto Club, an extension of the Fédération Internationale de l'Automobile (FIA), motoring's international governing body. The new world records are subject to FIA recognition, which will occur in about 30 to 60 days.
Mean Green eclipsed its previous records – 218.780 km/h (135.943 mph) in the flying kilometer and 152.253 km/h (94.605 mph) in the standing kilometer – established June 2011 at the Hultsfred Airport in Sweden.
Though Mean Green's modified aerodynamic body design bears little resemblance to a freight-hauling tractor, the truck is comprised almost entirely of production components from Volvo family vehicles, including a North American Volvo VN cab and frame.
The truck has a Volvo D16 engine and a modified version of Volvo's automated I-Shift gearbox, which interacts with the hybrid's electric motor. The combination of an electric motor and Volvo D16 diesel engine delivers 2,100 horsepower and nearly 5,000 lb-ft. torque – of which, 200 horsepower and 885 lb-ft. of torque come from the electric motor.
To view video footage from the world record runs, visit www.volvotrucks.us.com.