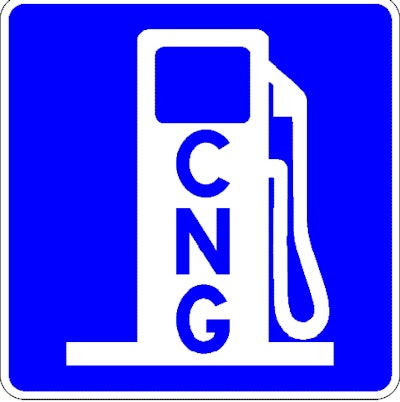 Much has been made in recent times of the traction being gained by natural gas as an energy source to power truck freight transportation. Natural gas powertrains have made their most significant gains to date in vocational markets. Recall my post here in Overdrive Extra about the Ozinga Ready-Mix fleet in Chicago and 13 new natural gas Kenworth Class 8s they've had in service for going on a year now.
Since Navistar's announcement of full-scale pursuit of on-highway natural gas Class 8 production — announced in February tandem with Clean Energy Fuels' news of growing infrastructure for natural gas refueling at truck stops — the fates seem to be lining up for the fuel to deliver.
Now stock analysts are getting into the game. Yesterday, the CNBC Stocks Blog, which delivers analysts' insights on stocks to buy, sell or hold to consumers, profiled six publicly-traded companies with a secure foothold in the natural-gas heavy truck market.
Cummins, the "leading natural gas heavy engine maker," as the blog had it, announced in March at Mid-America that it will be producing a natural gas version of the ISX15. As the CNBC blog noted, also detailed in this Overdrive story, Cummins already produces with Westport Innovations a 12-liter natural gas engine meant for on-highway operations. Westport also made the stocks blog's content.
Navistar, too, was singled out on the blog for natural-gas-engine-development efforts — in partnership with Clean Energy, also profiled, Navistar's planning a comprehensive natural-gas powertrain offering to be available for all existing MaxxForce engines and International trucks by the end of 2013.
Paccar and Daimler Trucks' efforts are likewise singled out on the CNBC blog.
One stock not mentioned is that of the Volvo Group, but Mack Trucks has also been trumpeting its efforts in building vehicles powered by natural gas, albeit in the vocational markets. It's showcasing three new waste haul models at the Waste Expo event in Las Vegas as we speak. They're all versions of the Mack TerraPro, one of which we featured in Overdrive's Severe Service here in late 2010.
Whether owner-operators will be following the money to invest themselves in natural gas power remains to be seen. The equipment, as I've written elsewhere, still comes at a sizable cost premium on the front end — Navistar estimates $35,000 over the cost of a comparable diesel truck. But payback could be high, particularly for highway haulers. Natural gas' diesel gallon equivalent comes at roughly a 40 percent discount. If any of you are hauling today in a natural gas truck or have driven one, be in touch in the comments here.
And all of which is to say nothing of the hauling opportunities available in the late natural gas boom here in the United States. I explored the niche briefly in the "Chasing the green" story in our January 2012 issue, and I'll be getting into that area more deeply in the near future. Leads? I'm all ears…