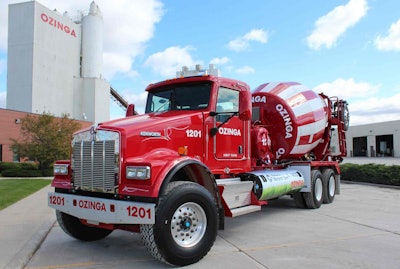 Chicago-based Ozinga Ready Mix drivers report plenty of power and responsive shifting from 13 Cummins-Westport natural gas-powered Kenworth mixer trucks now in operation, moving from its Chinatown Plant near downtown. "Since city officials are trying to reduce emissions from trucks that operate in downtown Chicago," says Tim Ozinga, company communications director, "we thought placing all of our new CNG trucks in operation there would have the greatest impact."
The company's CNG-powered W900s mixers were delivered between October and December 2011, spec'd with the 8.9-liter, 320-hp Cummins Westport ISL G engine, 6-speed Allison 4500RDS automatic transmission and McNeilus Bridgemaster mixer body.
The company has plans to install a time-fill fueling station at the Chinatown plant as it replaces more of its diesel-powered mixers with new Kenworth CNG-powered units. The units have performed well, Ozinga Fleet Manager Pete Huisenga says. "Drivers have told us that they're responsive, shift fast and provide good power. They also tell us the engines are remarkably quiet and the truck interiors are very comfortable."
The price premium for CNG truck technology Ozinga estimates will be returned in 2.5 years, given that natural-gas cost has been consistently around $1.50 less than the diesel gallon equivalent. For a company that relies on residential rehab and construction projects for 50 percent of its business, that might seem a risky investment, but Ozinga is positioning itself for the future. "More and more homeowners and small businesses are looking to source their concrete from companies that can demonstrate a commitment to a greener operation," says Ozinga. "Contractors are also looking for suppliers who can help them with improving their chances for meeting certification requirements for the Leadership in Energy and Environmental Design (LEED) Green Building Rating System."
Tune into Overdrive's quarterly Severe Service department in this month's issue for more severe-duty and vocational-truck news and equipment information.