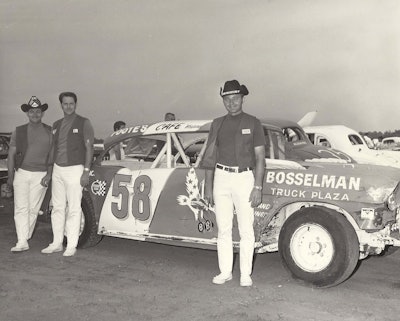 The 15th class of the Nebraska Auto Racing Hall of Fame, to be inducted in October at the Fireman's Hall in Lincoln, Neb., is set to include one Chuck Bosselman, second-generation owner of the famous Bosselman Truck Plaza in Grand Island, Neb., at I-80 and Highway 281, and later related businesses.
Bosselman, who passed away earlier this year after a battle with cancer, got the racing bug in the late-1960s, starting with a 1955 Chevy and competing around the Midwest. Bosselman became one of the few people to successfully race an AMC product on America's short tracks, winning an IMCA national race at the Nebraska State Fair in 1974 with his red, white and blue AMC Hornet.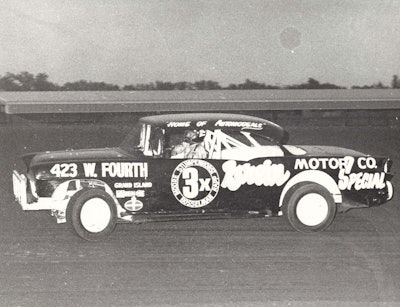 Bosselman's son Charlie, who oversees the Bosselman Companies today, had this to say about the announcement of the induction: "As a family, we are extremely honored and proud of this award. We know how much Dad loved all aspects of racing, from driving to promoting the sport, including his sponsorship of the Pump & Pantry Late Model Nationals. I plan to continue his legacy through my creation of a tribute 1971 AMC Hornet that I will be racing upon completion. It's just one small way our family can carry on this tradition in honor and memory of Chuck."
Here are a few bios the company provided about the remaining six hall-of-fame inductees:
Dave Chase, Omaha: In a career spanning more than 30 years, Chase scored in excess of 300 feature wins and 20 track championships. He also ran in ASA and NASCAR with great success.
Bob Elic, Omaha, was a major force in Omaha area drag racing in the 1950s and 1960s, driving the career of Howdy Williams and several others.
John Gerloff, Lincoln, was a championship winning late model driver before turning his attention to sprint cars in the mid-1980s. Gerloff won point titles at Eagle Raceway seven times and is the all-time leading feature winner there. He also racked up victories at the Jackson Nationals in 1988 and the Short Track Nationals in 1994.
Keith Hightshoe, Ashland, started his career at Arlington Raceway in 1955 and ran with some of the top organizations including, IMCA and BCRA, during a 45-year career. He won races in Colorado and Kansas in addition to his home state.
Bob Hubbard, Wymore, was a winning crew chief at the Daytona 24-hour event four times between 1985 and '88. He also scored national wins as a driver in 1964 and 1965 in Formula Vee and won six national titles in F production.
Homer Macklin, Minden, starting out as a driver in the early 1950s, Homer really found his niche as the mechanic of the famed Mighty Mouse stock car team. With drivers such as Cliff Sealock and Willie Hecke, the Mighty Mouse ran wild for two decades. In 1972, Macklin and Hecke teamed up with the "Go Big Red," sprint car and continued to dominate for several years.
The Nebraska Auto Racing Hall of Fame is located inside the Museum of American Speed at 340 Victory Lane on the Speedway Motors complex in Lincoln, Neb. The Museum of American Speed hours: May through September, two-hour guided tours begin at 2 p.m., Monday through Friday. October through April, two-hour guided tours begin at 2 p.m. every Friday. Admission is $10 to tour the museum.
For more information about the Nebraska Auto Racing Hall of Fame, please visit www.narhof.com.