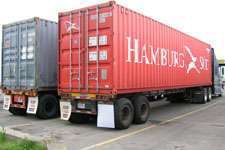 The folks at Cascade Sierra Solutions, a nonprofit dedicated to connecting operators with opportunities to boost environmental friendliness and operational profitability, sent a notice today any Charleston, S.C., port haulers will want to take notice of, particularly if you've been waiting for the right opportunity to get rid of that pre-1994 model truck you can't otherwise unload.
Incentives for CSS's Charleston port truck replacement program will increase from $5,000 to $10,000 beginning this week. "The voluntary program encourages truckers with frequent use of the Port of Charleston to exchange and scrap a pre-1994 diesel truck to receive a $10,000 incentive plus the scrap value of their vehicle toward the purchase of a 2004 or newer truck," the organization says.
Depending on what you could get for resale or trade of a pre-1994 rig, it could well be an opportunity to get into something with fewer miles.
CSS also makes low-interest financing available to folks who can find other good sources of financing, fyi, and they'll be opening up a mobile office for consultations at the Wando Welch Terminal at Charleston every Tuesday from 9 a.m.-noon beginning on April 24. The program is in partnership with the South Carolina Ports office and the South Carolina Department of Health and Environmental Control.
The Charleston Seaport Truck Air Cleanup Southeast (Charleston STACS) program launched in fall of 2011, with the goal of scrapping up to 85 percent of the pre-1994 model-year trucks serving the port. Thus far, 24 trucks have been scrapped as part of the program — the first of its kind in the region.